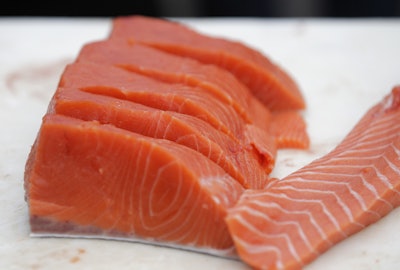 Costco on Tuesday became the largest retailer to announce that its stores won't sell genetically modified salmon.
According to a statement from the company released by environmental group Friends of the Earth, Costco "has not sold and does not intend to sell GM salmon at this time."
FOE said that more than 60 supermarket chains comprising some 9,500 stores rejected the modified salmon, which was recently approved by the U.S. Food and Drug Administration.
Walmart — the world's largest retailer — and Publix are among the large grocery that have yet to take a position on the issue, according to FOE.
The group also touted Red Lobster's statement to the Dallas Morning News that its restaurants would not sell GMO salmon.
The FDA last week approved the salmon produced by Massachusetts-based AquaBounty after a delay of more than five years; it is the first engineered animal approved for human consumption by the agency.
The AquAdvantage Salmon is engineered to grow twice as fast as normal salmon, but since it doesn't physically differ from normal salmon, it would not need to be labeled differently.
Critics called for labeling requirements on the modified fish. Others previously expressed concerns about their potential impact on human health and the environment.
"The market is rejecting GMO salmon. Stores won't sell it and people don't want to eat it," said FOE's Dana Perls.