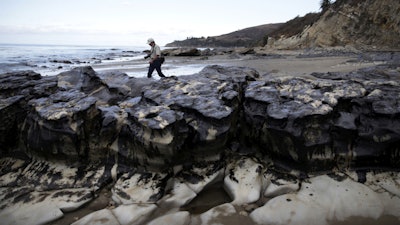 LOS ANGELES (AP) — The operator of an oil pipeline that ruptured and spilled more than 100,000 gallons of crude on the California coast this year was ordered Friday to purge a neighboring line and make repairs so it doesn't fail.
Federal regulators said the line owned by Plains All American Pipeline was constructed and operated in the same way as the line that broke May 19 outside Santa Barbara and the agency had found inspections of both pipes had underestimated corrosion inside.
Although the 129-mile pipeline was idled in late May, it has been full of unprocessed crude from offshore oil platforms that could contribute to further corrosion as rust inhibitor loses its effectiveness.
The corrective action order is the latest from the Pipeline and Hazardous Materials Safety Administration targeting Plains for problems that have come to light since the spill.
The agency continues to investigate why the two-foot wide pipeline sprang a leak onshore and then began flowing across a pristine Santa Barbara County beach into the Pacific before the leak was contained.
Oil from the spill washed up on beaches more than 100 miles away and about 300 dead animals, including pelicans and sea lions, were recovered.
Corrosion appears to be the main culprit behind the spill and regulators previously said preliminary results from internal inspections that revealed the 10.6 mile-long pipeline lost nearly half the metal near the break had vastly underestimated just how thin the pipe had become.
Regulators said Friday that internal inspections over the past 10 years on both lines had "under-called" problems in areas of general corrosion. Field examinations found these problem areas were bigger than a high-tech tool that runs through the pipe had predicted.
However, Plains never shared its field reports with the company that ran the tests, which is common practice, the agency said. That prevented the inspection company, which wasn't named, from being able to validate its detection capabilities, limitations and confidence in its measurements.
"This is a very serious statement from PHMSA," said Richard Kuprewicz, a pipeline safety expert. "They get this and they're moving in the right direction."
Plains said in a statement it did not agree with several of the agency's findings, though it planned to purge the line.
Plains was also ordered to purge a 37-mile pipeline system that runs from three offshore platforms operated by Freeport-McMoRan Oil and Gas to the longer Plains pipeline. They will have to fill the pipes with an inert gas.
Kristen Monsell, an attorney with the Center for Biological Diversity, said the oil should have been removed months ago when corrosion was discovered.
"It's outrageous that crude oil is still sitting in this badly corroded pipeline six months after inspectors identified the risk. The danger of another leak was crystal clear," Monsell said. "Regulators and the pipeline company failed the public by waiting so long to deal with this risky situation."