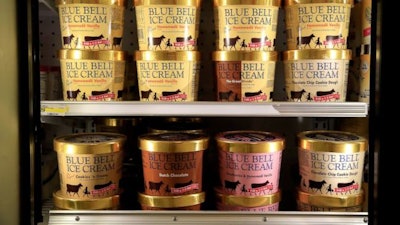 BRENHAM, Texas (AP) — Consumers in most of Texas and parts of Alabama will have Blue Bell treats available next month, as ice cream sales expand following listeria contamination and cleanup at some of its plants.
Blue Bell announced Friday that most retailers in Texas, except in the state's far west, including El Paso, will have products available by Dec. 14. That's also when central and southern Alabama should have Blue Bell items.
The Brenham, Texas-based company voluntarily recalled its products in April, after its ice cream was linked to 10 listeria cases, including three deaths in Kansas. Listeria bacteria can cause serious illness, especially in older adults, pregnant women and people with weakened immune systems.
Blue Bell faced intense regulatory scrutiny during cleanup and decontamination. The company in late August resumed sales in parts of Texas and Alabama. Oklahoma consumers started getting Blue Bell this month.