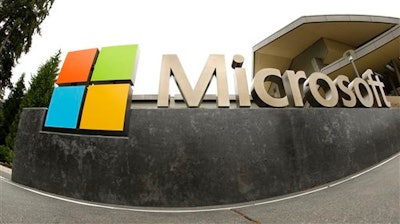 SAN FRANCISCO (AP) — In a world where there's a smartphone app for everything, one company — Amazon.com Inc. — has long been the host for an outsized share of online software and computing services.
Microsoft CEO Satya Nadella wants to change that.
Nadella has poured billions of dollars into building new data centers around the world, hoping to position Microsoft as the leading alternative to Amazon in selling online computing power — housed in remote centers or "clouds" — to internet startups and big corporations, as well as consumers.
As evidence the investment is paying off, Microsoft Corp. reported Tuesday that its Azure cloud-computing business more than doubled in sales last quarter, compared with a year earlier. That growth, combined with increases in revenue from Windows software licenses and other key segments, helped offset a big decline in revenue from the Nokia smartphone business that Microsoft largely shut down last year.
If Amazon has been the undisputed king of the cloud, analysts say Microsoft, Google and a few other tech giants are emerging as rivals. The competition could mean lower prices and more innovation, both for businesses that buy cloud-computing services and for consumers who use popular apps — from Netflix to Pinterest and Airbnb — that run in the cloud.
Amazon pioneered the cloud business almost 10 years ago, when the online retailer began renting out unused capacity on its own servers. Estimates vary, depending on how you define "cloud computing," but analysts at Synergy Research Group say Amazon still has more than 30 percent of the market, while Microsoft has grown to 10 percent — partly on the strength of Microsoft's promise that its cloud services are compatible with Microsoft software that customers already have on their own computers.
IBM and Google have 7 and 5 percent, respectively. Like Microsoft, IBM reported this week that its cloud revenues increased in the last quarter, despite a broader decline in its traditional software business.
For consumers, competition in the cloud-computing industry could mean their favorite social media site or streaming entertainment app doesn't depend on a single company to keep its service running. Increasingly, that's also true for big companies like General Electric and Boeing, which provide online data and other services for their commercial customers, and which recently signed deals to move some of those services to Microsoft's cloud.
"Some companies will want to work with multiple cloud providers, so if anything goes wrong, they have redundancy," said Frank Gillett, a tech analyst with Forrester Research.
For Microsoft, meanwhile, cloud computing has been the company's biggest source of growth in recent quarters. It's helped drive up Microsoft's stock price by 15 percent over the last year, despite sluggish sales of PC software and the near-collapse of its floundering smartphone business. The company's stock was up about 4 percent in after-hours trading Tuesday following the earnings report.
Some investors worry the cloud business isn't as profitable as selling traditional software, since the latter didn't require massive spending on data centers. But cloud computing is "the area that offers the highest potential for the entire company to grow its way out of a very mature PC business," said Dan Morgan, senior portfolio manager at Synovus Trust, which holds Microsoft shares.
Results from Microsoft's latest quarter underscored that trend. The company doesn't disclose revenue for its Azure cloud computing service by itself. But Microsoft's "Intelligent Cloud" division — which includes Azure and some software that customers use in their own data centers — reported revenue of $6.7 billion, up 7 percent from a year earlier. That helped boost Microsoft's overall sales to $22.6 billion, after adjusting for deferred revenue, for an overall increase of 2 percent.
Revenue from the division that includes Microsoft's Office productivity software was up 5 percent. But sales from the "More Personal Computing" segment fell 4 percent. The latter includes licensing fees that PC makers pay for Windows software, which saw an uncharacteristic increase, offset by declining revenue from smartphones and Xbox consoles.
Microsoft still relies heavily on the PC business, and it's been aggressively promoting Windows 10, the latest version of its operating software for PCs and other devices. But Nadella has positioned Windows 10 as part of a broader software ecosystem that includes money-making online services like Skype and the ad-supported Bing search engine.
In a rare concession, Microsoft signaled last week that it was backing off its stated goal of getting Windows 10 on a billion devices by 2018. Analysts say the timetable was probably slowed by a continued slump in global PC demand, as well as Microsoft's failure to persuade consumers to buy Windows-based phones.