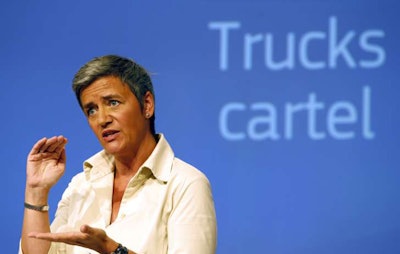 The European Union has slapped its biggest ever cartel fine, worth $3.24 billion and twice the previous record, on several of Europe's top truck producers for colluding to keep prices artificially high at the expense of consumers.
EU Antitrust Commissioner Margrethe Vestager said EU-based MAN, Volvo/Renault, Daimler, Iveco and DAF "colluded on the pricing and on passing on the costs for meeting environmental standards to customers."
Germany's Daimler received the biggest fine of 1 billion euros ($1.1 billion), followed by 752 million euros ($832 million) for DAF of the Netherlands, 670 million euros ($741 million) for Volvo/Renault and 494 million euros ($546 million) for Iveco of Italy.
MAN escaped a 1.2 billion euro ($1.33 billion) fine for revealing the cartel, granting it full immunity. "It pays off to denounce a cartel and end your participation," said Vestager.
Together, the targeted companies account for 90 percent of all medium and heavy trucks produced in Europe. Since road transport is essential to the open economy of the tightly knit 28-nation bloc, "this cartel concerns a very important part of our economy," Vestager said.
She said the cartel was set up during a meeting of high officials "in a cozy hotel" in Brussels in 1997 and continued for 14 years. Halfway through that time period, lower-level officials took over the cartel's organization through subsidiary companies, often through email exchange.
Before Tuesday's 2.93 billion euro fine, the previous record was from 2012, when 7 companies were fined 1.47 billion euros ($1.62 billion) for rigging the market of television and computer monitor tubes.
The truck companies now have three months to pay the fines, which will go into EU coffers and help alleviate contributions of member nations to the EU budget.
Vestager said collusion happened specifically at the level of "gross list" price increases, which are the basis for pricing, but do not necessarily affect the final price paid by customers.
"We are convinced that these events have not impacted our customers," said Martin Lundstedt, Volvo president and CEO. "The Volvo Group has always competed for every single transaction."
DAF Trucks spokesman Rob Appels said that "the fine is a result of the exchange of information on gross factory prices among European truck makers. We are convinced that the exchange of these gross factory prices had no effect on the sale prices of trucks, which are negotiated between DAF's independent dealers and their customers."
Vestager did not give an estimate on the total amount of collusion. She said that one other producer, Scania, was not covered in Wednesday's decision and an investigation continues.