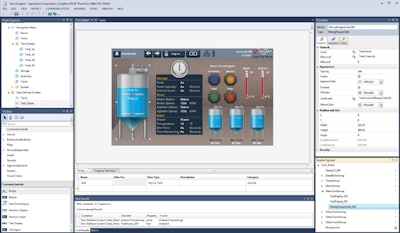 New from Rockwell Automation is their Studio 500 software with an integrated development environment. New features provide:
Pre-developed application content to replace custom code.
The ability to exchange data with engineering tools like EPLAN and AutoCAD. This bidirectional data transfer helps improve startup time by reducing the need to manually re-enter control data.
To enhance security, license-based content protection has been added to help manufacturers protect the design and execution of their Logix content by limiting who can view or edit object source code. It also restricts code duplication in unauthorized machines.
New add-on graphics capability that helps simplify configuration. Users can create their own reusable graphics, and configure and link them to custom Logix data types and add-on instructions.
Virtual design capabilities for validating, testing and optimizing application code independent of physical hardware.