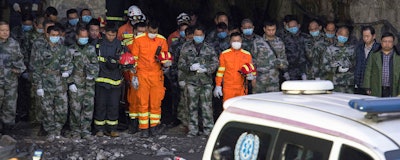 BEIJING — Regulators found several safety violations in a coal mine in western China where 33 people died this week after being trapped underground in a gas explosion.
China's State Administration of Work Safety said Wednesday the mine in the municipality of Chongqing was using outdated equipment and miners were sent more than 100 meters (328 feet) beyond the approved drilling area, causing gas to accumulate.
Only two miners were able to escape Monday's blast.
Gas explosions inside mines are often caused when a flame or electrical spark ignites gas leaking from the coal seam. Ventilation systems are supposed to prevent gas from becoming trapped.
The correct boundaries were not marked on drawings of the mine, and operators did not submit the necessary paperwork or set up proper supervision, the safety administration found. It called for coal mining operations to take more precautions and follow existing safety laws.
"We cannot pursue development at the price of safety," an agency statement said.
The operators of the mine did not answer phone calls Thursday.
China is the world's top producer and consumer of coal but has announced plans to shutter more than 1,000 outdated mines as part of a broader plan to cut down on overproduction.
The Chinese mining industry has long been among the world's deadliest. The head of the safety administration said earlier this year that struggling coal mines might be likely to overlook maintenance.