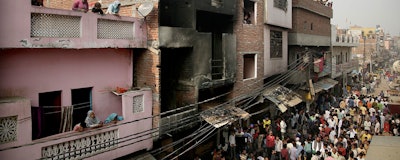 NEW DELHI — A fire that broke out in the basement of a garment factory trapped and killed at least 13 workers as they slept early Friday in the building just outside New Delhi, a government official said.
Nine other workers were injured, four of them seriously, Uttar Pradesh state official Naresh Mathur said.
The factory was in a converted house in the industrial town of Sahibabad, and had a narrow stairway into the basement where the workers slept.
A dozen fire engines doused the flames after battling them for several hours. The cause of the fire is being investigated.
Factory fires are common in India, where safety enforcement is lax.