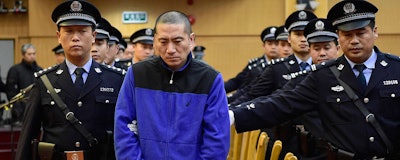 The chairman of China's Ruihai International Logistics was given a "suspended death sentence" by a court this week over charges related to one of the country's deadliest recent industrial accidents.

Ruihai owned a warehouse in the port city of Tianjin that illegally housed massive amounts of hazardous chemicals.

In August 2015, its stores of nitrocellulose, a material used in medical applications and lacquers, began to burn and ignited a stockpile of ammonium nitrate fertilizer.

The resulting explosions killed 173 — including 110 first responders who were unaware of the dangerous chemicals — and injured nearly 800 more. Investigators noted that the facility was illegally placed too close to nearby apartments and that chemicals also contaminated the immediate area.

Ruihai Chairman Yu Xuewei was found to have bribed officials in order to secure their permission to store nearly 50,000 tons of toxic chemicals at the warehouse.
He apologized to the victims during a court appearance and said that he would not appeal the decision; a "suspended" death sentence, the Associated Press reports, is generally commuted to life in prison after two years.

"I want to use this opportunity to apologize to those who died and were hurt in the blasts and their families, as well as all the citizens of the nation," Yu told judges in a video shown by state television.

Yu was the 49th official sentenced for their role in the incident, which highlighted corruption in the Chinese chemical industry.
The other individuals charged included 12 other Ruihai, 11 workers from a related company and 25 government employees accused of taking bribes, dereliction of duty and abuse of power.