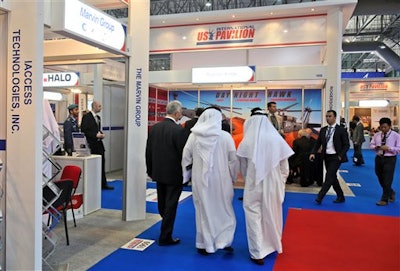 DUBAI, United Arab Emirates (AP) —€" U.S. aerospace manufacturer Pratt & Whitney doesn't just have a booth at this year's Dubai Airshow. The company takes up two chalets outside the main exhibition hall alongside other aviation and defense giants like Boeing, Airbus, Lockheed Martin and Raytheon.
Just inside the hall, however, a father-and-son team from Jupiter, Florida are selling Pratt & Whitney engine overhaul parts at a fraction of the manufacturer's price through authorized distributors and wooing clients with offers of better service.
Global Turbine Parts is one of 150 U.S. businesses taking part in the Middle East's most important airshow, which runs this week until Thursday in the United Arab Emirates. This year, small and medium-sized businesses from the U.S. have expanded their presence at the show, vying for a cut of the Gulf's lucrative aviation and defense market, while directly competing with some of the world's biggest players.
Sergio Azoy Jr., who runs Global Turbine Parts with his father, says it's their third time at the biennial airshow. He says the company, which has five employees and is a broker and supplier of turbine engine parts, gained five clients in the Middle East since the 2013 show. Their client list now includes the Dubai police department, Bahrain's police department and a UAE-based flight academy, among others.
"Even though it may be a small part compared to the billion-dollar deals being signed, we're proud to be a part of it," Azoy said, referring to the Mideast aviation industry.
He says there's a chance to compete for sales because smaller companies like his offer personalized service.
"If you give them good pricing and service... they're going to come to you," he said.
About $190 billion in deals was announced at the last Dubai airshow, where Florida was the only U.S. state with an official presence. Its pavilion hosted 11 small and medium-sized businesses, giving them a boost through the state's economic development organization, Enterprise Florida. It helped the companies design their booths and offered them grant money for the space.
This time, Georgia, Missouri, Virginia, New Hampshire and Washington joined Florida with their own pavilions.
Kallman Worldwide, which organizes U.S. pavilions at exhibitions around the world, helped 95 U.S. exhibitors take part in this year's airshow, with pavilion space doubling in size from the last show.
"State governments are realizing if we can help these guys out through a small amount, then they're going to go overseas and make a lot more money and that means jobs and that means revenue for the state," said Thomas Kallman, the company's president and CEO.
Maria Badillo and her husband Frank Benzaria paid just $1,500 for space in a booth because of grant money from Virginia. Their Sterling, Virginia-based company, Defense Technology Equipment, has a few clients in the Middle East, and they say they learned out about eight more potential clients simply by networking at the show.
Despite an expanded state presence, there were dozens of small and medium-sized businesses at the show did not have external support. Fastening Systems International of Sonoma, California, paid more than $10,000 for pavilion space. The company, which has 15 employees and manufactures and distributes aerospace tooling, came to be in front of some of the world's fastest-growing companies. About 15 percent of the company's business is with international clients, mostly in Europe and Asia.
"It's a major undertaking and a major effort to be here," said Mark Herand, vice president of sales and marketing. "This is a region that is growing and there's good opportunity."
While state-level presence at Dubai's airshow is still much lower than at the bigger Farnborough and Paris airshows, where up to 22 states have pavilions, there is growing recognition that the Mideast aviation market is ripe for business.
Airbus projects that over the next 20 years, growth in traffic for Mideast airlines will be around 6.7 percent. In North America, the figure is estimated at just 2.5 percent. Not only are major carriers in the region expanding aggressively, countries like Saudi Arabia and the UAE are spending heavily to beef up their militaries. The UAE also recently launched a space program with a mission to go to Mars.
In a sign of just how eager U.S. businesses are to enhance ties, American aerospace companies on Tuesday presented the UAE's space agency with a U.S. flag that traveled to the moon on NASA'S Apollo 14 mission.
It was Troy Prewitt's first airshow, and his first time in Dubai. The president of Ultrax Aerospace based in Lee's Summit, Missouri, said the state's economic development department contacted the company to take part in the airshow as part of its outreach program to grow Missouri's job base. The company, an innovator of test solutions for electrical equipment on aircraft, employs 50 people.
"We have to be directly in front of the biggest players," Prewitt said from his stand. "We will generate new business out of this."