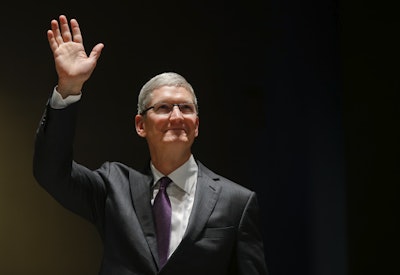 MILAN (AP) — Apple CEO Tim Cook says businesses can't wait for governments to solve issues like climate change and equal rights.
Cook told students and faculty at Italy's top business school, Bocconi University, on Tuesday that "the challenges are simply too great for businesses to stand on the sideline."
He noted that "climate change impacts supply chains, energy crises and overall economic stability."
Apple has set a goal of running the company worldwide on renewable energy and has achieved 87 percent of that goal. It is working with suppliers to help them convert to clean energy.
Cook cited Apple's investment announced last month with suppliers in China to produce 2.2 gigawatts of solar power and other renewable energy by 2020. Cook said that's enough to supply power to 2.6 million Chinese households.