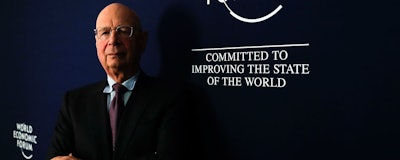 DAVOS, Switzerland (AP) — The founder of the World Economic Forum says he hopes President Donald Trump's planned visit to Davos this week will "provide him even better with a global perspective," and says critics of the U.S. leader should hear him out.
Klaus Schwab couldn't confirm whether Trump will actually attend the WEF event in the Alpine snows on Friday, as scheduled, because of the U.S. government shutdown. The White House has previously said that Trump would detail his "America First" stance — which doesn't always square with the Davos globalist mindset — and that it was assessing day by day whether the government shutdown might derail his trip.
More than 60 heads of state and government, plus hundreds of business leaders, academics, civil society advocates and celebrities are meeting in Davos from Tuesday to Friday, an event featuring roughly 400 debates and panels on topics like action on the environment, the outlook for Africa, and ways that refugees can contribute to their host countries.
In an interview with The Associated Press, Schwab said that now that economic fortunes worldwide are rising and the financial crisis is fading, business has to take a major role in solving social problems.
"What we need is 'qualitative easing' to make the lives of those who have been left out better, and to include them into the economic development process," said Schwab.
As for Trump, the WEF founder said the emphasis should not be on him as a person.
"Let's not forget he is the democratically elected president of the most powerful nation in the world," Schwab said. "Without the cooperation, without the positive approach of the United States, we will not make very much progress in finding solutions. So his participation is very important."
Some participants and protesters want Trump to stay away, or even apologize for his remarks that they perceive as racist, sexist or xenophobic.
"My message to those people would be: It is the spirit of Davos to listen to people, to interact, to show respect," he said. "And we should not look at, let's say, being influenced by our emotions. We should see what his message will be, and then we can form our own proper opinion."
As for Trump himself: Could he come away with a changed mind?
"I think what's important is that whoever is the leader of a country does not have just a national perspective, but an international perspective, a global perspective," Schwab said. "And the presence of the president of the United States here, Donald Trump, will hopefully provide him even better with a global perspective."
___
Theodora Tongas in Davos contributed to this report.