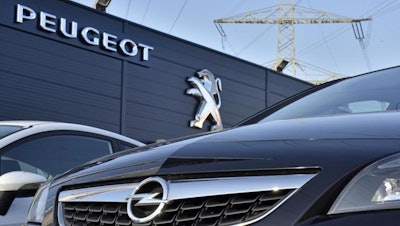 Unions at Peugeot maker PSA Group have agreed to 1,300 job cuts made possible by new French labor rules imposed by President Emmanuel Macron.
Five of six unions at PSA signed the deal with company management Friday.
Hard-left union CGT refused to sign, arguing it is a veiled way to get rid of older workers and shut down factories even as the company is expanding and turning profits.
It's the biggest jobs deal so far resulting from Macron's first wave of labor reforms. The changes include a measure that came into effect this month allowing companies to negotiate mass departures.
As part of Friday's deal, PSA promises to hire 1,300 other people on long-term contracts and restructure its workforce to meet demand for more electric and autonomous vehicles.