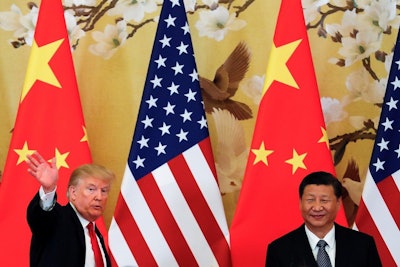 China defended its role in global trade Monday and accused Washington of being disruptive after the U.S. government said it was a mistake to support Beijing's World Trade Organization membership on terms that failed to open its economy.
China is "strictly complying with WTO rules" and "making great contributions" to the global trading system, said a foreign ministry spokeswoman, Hua Chunying. She repeated criticism that U.S. President Donald Trump's administration has threatened the stability of the international system by launching trade investigations against China under U.S. law instead of through the WTO.
"We are a defender, builder and contributor of the multilateral trade system," Hua said at a regular news briefing. "And you may have noted it is the unilateral actions and unilateral messages from the U.S. that pose an unprecedented challenge to the multilateral trade system. Many WTO members have expressed their concerns over that."
Beijing faces growing complaints from Washington, Europe and other trading partners that it hampers access to its banking, energy and other industries in violation of market-opening commitments it made when it joined the WTO in 2001.
In a report to Congress, the U.S. Trade Representative said the United States made a mistake in supporting China's WTO membership "on terms that have proven to be ineffective in securing China's embrace of an open, market-oriented trade regime."
The report echoed previous U.S. frustration with China's trade policies but used unusually severe language.
The Trump administration is expected to announce results in coming weeks of its "Section 301" investigation launched in August into whether Beijing improperly pressures foreign companies to hand over technology.
If the investigation concludes Beijing acted improperly, Washington could seek remedies either through the WTO or outside of it. The Chinese Ministry of Commerce warned earlier that Beijing will "resolutely safeguard" its interests if Washington takes action.
Also this month, Chinese authorities criticized Washington for invoking national security concerns in blocking e-commerce billionaire Jack Ma's proposed acquisition of the money transfer service MoneyGram.