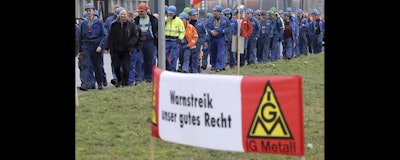 FRANKFURT, Germany — Germany's biggest industrial union and employers have reached a wage deal that gives workers the equivalent of 3.5 percent annual raises over 27 months and the chance to work a 28-hour week for up to two years.
Such wage gains could boost an already strong German economy by increasing consumer spending. And if they spread to other sectors and countries, they could raise inflation across the 19-country eurozone from its current weak levels, something the European Central Bank has been trying to do for years.
The IG Metall union and employers in the southwestern Baden-Wuerttemberg state — home to automaker Daimler, Volkswagen's Porsche and auto parts firm Bosch — agreed Tuesday on the regional deal, ending a dispute that had seen 24-hour strikes at targeted firms. Regional agreements are typically applied across the whole country and some 3.9 million industrial workers.
The deal involves the possibility of more flexible working hours, a contentious issue in a strong economy with some firms running at full capacity and facing shortages of skilled workers in some areas.
Employees won the right to the shorter week while employers will be able to put more workers than before on longer 40-hour weeks. The deal runs through March 2020.
Rainer Dulger, president of the Gesamtmetall employers' association, said the deal was "the foundation stone for a flexible labor system for the 21st Century" that added room both for more and fewer hours.
"The compensation increase means a painful cost burden, but in general reflects the good business situation of our sector," he said.
Wage increases could have a broader impact if they spread to other sectors and countries and push inflation higher across the eurozone. The European Central Bank has been struggling to raise inflation toward its goal of just under 2 percent, considered best for the economy. It was an annual 1.3 percent in January. Inflation has been slow to pick up despite strengthening growth, and the ECB has continued pumping newly created money into the economy through bond purchases in an attempt to push it higher. It says it will continue the purchases at least through September.
The wage increases could help boost already-strong domestic demand in Europe's largest economy. Germany's economy grew 2.2 percent last year and unemployment was only 3.6 percent in December. Across the eurozone, however, the rate is 8.7 percent, with pockets of much higher unemployment in places such as Greece and Spain.
ECB President Mario Draghi said at a news conference on Jan. 25 that whether any IG Metall wage increases spread to other countries "will depend very much on the conditions of the labor market."
He said that "clearly in Germany, the labor market is experiencing pretty tight conditions. In other countries the labor market's slack is still pretty wide."
The union said the shorter week would let workers better balance work and domestic life, especially for those caring for children and the old. The contractual week is 35 hours in western Germany and 38 hours in the eastern regions.
Workers actually get a 4.3 percent raise on April 1 and from 2019 a mix of additional fixed payments that average out to 3.5 percent in annual raises over the 27 months of the deal, according to analysts at Commerzbank. The union originally asked for 6 percent.
Companies had balked at the union's demand for extra pay for those working the shorter week to even out the lost income for those caring for family members and for those on late shifts. The union at least partly won that demand through a system in which workers can turn a fixed amount of pay into time off on favorable terms, according to the Commerzbank analysis.