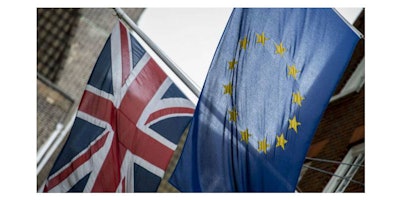 LONDON (AP) — The European Union's Brexit negotiator warned Monday that the time has come for the U.K. to clarify what relationship it wants with the bloc once it leaves, and warned that exiting its customs union would hurt trade.
Michel Barnier shook his head as he outlined the results of a meeting with the U.K. Brexit chief David Davis. With Britain set for departure on March 29, 2019, Barnier said it was time for Britain to decide whether it wants to remain in a customs union.
"The time has come to make a choice," he said.
Davis, by contrast, said the talks were constructive and negotiations on the next stage were to be started right away.
The comments come after weeks of political infighting within Prime Minister Theresa May's Conservative Party.
May's party has been split between those who want a complete break from the EU and those who want to keep Britain's economy closely aligned with the bloc and its market of 500 million people.
With only months before Britain is to go, tensions in May's government have been escalating as the leadership tries to determine its negotiating position. May has been under pressure to take sides in the Conservative Party's civil war over how close the new relationship with the EU should be.
On Monday, May's office underscored that Britain will not remain in a customs union with the EU after the U.K. breaks with the 28-nation bloc
Business leaders have been pleading with May to have close alignment with the EU. Lawmaker Anna Soubry urged May to pay attention, taking to Twitter to urge her to reject the so-called "Hard Brexit" vision espoused by the European Research Group lawmakers, led by Jacob-Rees Mogg, a prominent Brexiteer.
"It's deeply unattractive that the only reason they want to leave #CustomsUnion is to chase unicorn trade deals," she tweeted.
The government position is important because being part of the customs union affects how members trade with countries outside it. Political leaders who pushed for Britain's exit pledged to strike new trade deals with the United States and others. Such deals wouldn't be possible while remaining in a customs union because the EU executive negotiates trade deals on behalf of members of the bloc.
Critics had hoped the matter would be reconsidered as the negotiations move to the next phase.