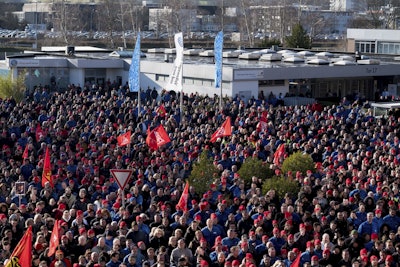 BERLIN — Germany's biggest industrial union is set to resume negotiations with employers after staging a series of 24-hour walkouts to ramp up pressure in a dispute over wages and working time.
News agency dpa reported that the IG Metall union said the two sides would sit down for talks in Stuttgart Monday.
The union is seeking a 6-percent pay increase for some 3.9 million workers and the right to reduce work weeks to 28 hours for up to two years. The latter demand also includes extra pay to partly even out lost income for those who reduce their working hours to care for small children or a family member — a particularly difficult sticking point.
IG Metall says some 500,000 workers participated in last week's walkouts.