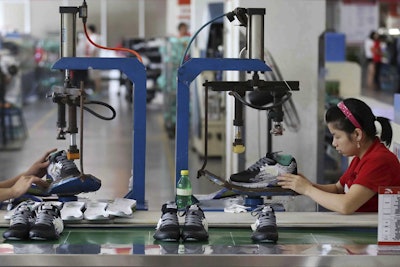 Private and official surveys showed Tuesday that China's factory activity rose last month to its highest level in more than two years, suggesting the world's No. 2 economy is stabilizing.
The Caixin monthly purchasing managers' index climbed to 51.2 in October from 50.1 the previous month.
The report found that production grew at its fastest pace in more than five years as strong domestic demand more than offset a slight drop in new export orders.
A separate index compiled by the official Chinese Federation of Logistics & Purchasing found a similar pick-up in output and new orders helped push the reading to 51.2 last month from 50.4 in September.
Both indexes are at their highest since July 2014. They are based on 100-point scales on which the 50 mark separates expansion from contraction.
Data on China's huge manufacturing industry, which employs many millions of workers, is closely watched for indications on the state of the broader economy, which last year expanded at its slowest rate in a quarter century.
Caixin's survey focuses on smaller, private enterprises while the federation's report gives more weighting to large, state-owned companies.
Despite the improved readings, official analysts fretted that weak demand from customers in major overseas markets was a drag on China's factories.
"Owing to the global economy's feeble recovery, the import and export situation is still grim," said Zhao Qinghe, an analyst at the National Bureau of Statistics.
In another hopeful sign for China's economy, activity in the services sector firmed up as the official non-manufacturing PMI ticked up to 54.0 last month from 53.7 previously.
Taken together, the numbers suggest improvement in the wider economy, said Julian Evans-Pritchard of Capital Economics.
"Overall, today's data are unambiguously upbeat and consistent with broader evidence that the economy is currently in the midst of a cyclical recovery," Evans-Pritchard said in a research note. He added that he expects the recovery to hold up until early next year but is likely to stall after that as the effects of recent stimulus fade.