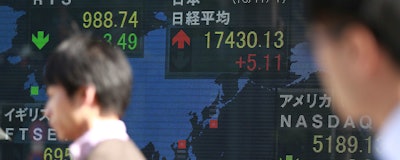 HONG KONG — European shares fell back, erasing early gains, on Tuesday after surveys showed China's factory activity rose to a two-year high last month. While the strong manufacturing data suggests China's economy may be stabilizing, some worry the rebound in industrial output could signal risks of a bubble.
European shares opened higher but then fell back, with Germany's DAX down 0.1 percent at 10,649.08 and France's CAC 40 losing 0.4 percent to 4,492.35. Britain's FTSE 100 edged 0.1 percent lower to 6,949.23. U.S. stocks were poised to open higher. Dow futures rose 0.2 percent to 10,694.00 and broader S&P 500 futures increased 0.3 percent to 2,125.70.
Caixin's monthly purchasing managers' index rose to 51.2 in October from 50.1 the previous month as production grew at its fastest pace in more than five years on strong domestic demand. A similar index by the official Chinese Federation of Logistics & Purchasing rose to 51.2 from 50.4 in September. Both are at their highest level since July 2014. They are based on 100-point scales on which the 50 mark separates expansion from contraction.
"This was also the strongest improvement in Chinese manufacturing conditions in two years. Much of the uplift came from domestic sources, as new export orders contracted marginally in October," said Bernard Aw, an economist at IHS Markit. "The headline index suggested that government stimulus policies taken earlier may be starting to take effect in the manufacturing sector."
Hong Kong's Hang Seng index jumped 0.9 percent to close at 23,147.07 and the Shanghai Composite index added 0.7 percent to 3,122.44. Japan's Nikkei 225 edged 0.1 percent higher to 17,442.40, and India's Sensex rose 0.2 percent to 27,995.38. South Korea's Kospi slipped less than 0.1 percent to 2,007.39 and the S&P ASX/200 of Australia lost 0.5 percent to 5,290.50. Shares in Southeast Asia were mixed.
A Federal Reserve policy meeting and the October jobs report are among the factors overhanging the markets. Fed policymakers are not expected to raise interest rates so close to the election. However, investors are watching for comments on the economy. The jobs report Friday will be the last major piece of economic data out before the Nov. 8 election. It's also a busy week for corporate earnings, with more than one-fifth of S&P 500 companies reporting their quarterly results.
The Bank of Japan wrapped up a two-day policy meeting without any changes to its minus 0.1 policy rate or other moves. The central bank did downgrade its inflation outlook, saying it expects to achieve a 1.5 percent inflation rate, rather than 1.7 percent, in the fiscal year that begins in April. The inflation rate now is about zero. Recent manufacturing data have shown a slight uptick in production that economists say could signal the stagnant economy is gaining strength.
U.S. benchmark oil futures fell 13 cents to $46.73 a barrel in electronic trading on the New York Mercantile Exchange. Overnight they extended their losses after falling last week to their lowest price this month. Crude fell $1.84 to $46.86 a barrel in New York. Brent crude, the international standard, rose 2 cents to $48.63 a barrel.
The U.S. dollar strengthened to 104.94 yen from 104.87 yen a day earlier. The euro rose to $1.1000 from $1.0973.