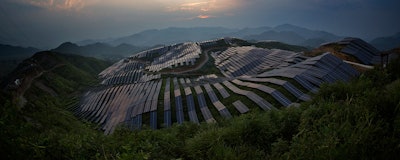 BEIJING — Use of solar power is soaring, but Europe's biggest solar panel manufacturer, SolarWorld, took the surprise step last month of cutting 500 jobs from its workforce of 3,000.
The reason? Global sales are on track for a record year but prices are plunging due to a glut of supply. That is encouraging the spread of clean energy but squeezing manufacturers, leading to politically sensitive job losses.
ProSun, a group that represents European suppliers, blames China, which it says is flooding export markets and depressing prices by propping up money-losing manufacturers. Industry experts say the problem is global and reflects missteps by manufacturers and shifting energy policies in Europe and the United States.
Solar panels are among many industries, from steel and cement to wind turbines, where Chinese production capacity soared during the past decade's economic boom until it vastly exceeded demand.
ProSun is pressing European Union trade officials for action, making this the latest industry, along with steel and aluminum, to be hit by political tensions over a surge of low-cost Chinese exports.
On average, global prices of solar cells have fallen 20 percent since July, according to Edurne Zoco, who follows the industry for IHS Markit.
Suppliers must sell at a loss or cut output, said Milan Nitschke, a SolarWorld executive who is president of ProSun.
"It's a problem for every manufacturer outside China," said Nitschke. "Chinese manufacturers also are in trouble but they can be confident that if they struggle, a Chinese banker will save them."
Prices of solar modules in the U.S. were down 13 percent from a year earlier in late June, at 59 cents per watt of generating capacity, the Solar Energy Industries Association says.
The biggest U.S. manufacturer, First Solar Inc., reported its profit for the three months ending in June fell 85 percent from a year earlier.
The No. 2 U.S. producer, SunPower Corp., announced Aug. 9 it would close a factory in the Philippines and eliminate 1,200 jobs following a quarterly loss of $70 million.
U.S. regulators imposed import tariffs of up to 250 percent in 2012 on Chinese solar cells and hiked duties on other solar products last year to offset what they deemed improper subsidies and unfairly low export prices.
In a written response to questions, the U.S. Commerce Department said it has received no new complaints from American manufacturers since issuing those orders.
SolarWorld announced Sept. 21 it would eliminate 500 temporary jobs at two sites in Germany.
Chinese and European prices are "in a neck-and-neck race to the bottom," said PV Magazine, which follows the industry. It said remaining European producers "have just a few years left at best."
A group representing Chinese exporters denies they are selling solar panels abroad at prices below production cost.
Chinese manufacturers have cut costs by improving their technology, said Zhang Sen, general secretary of the solar division of the China Chamber of Commerce for Import & Export of Machinery & Electronic Products.
"Chinese companies are not maliciously lowering export prices," Zhang said in an email.
Beijing has encouraged solar manufacturers with low-cost loans and other aid. Production expanded until by 2012 the market was awash in low-cost solar panels. That set off price-cutting wars and a wave of bankruptcies.
Communist leaders have promised to shrink bloated industries but want to protect technology creators. Hundreds of small Chinese solar manufacturers have shut down while bigger companies are shielded from bankruptcy.
After it defaulted on a 1.7 billion yuan ($267 million) bond payment this year, solar panel maker Yingli Group, a sponsor of the 2014 football World Cup in Brazil, received 2 billion yuan ($310 million) from the China Development Bank. Regulators were lining up another 7.5 billion yuan ($1.2 billion), according to Chinese news reports.
China passed Germany last year as the biggest user of solar power and has raised its official 2020 target for solar generating capacity by 50 percent to 150 gigawatts — more than triple the amount installed to date.
Environmentalists and other governments have lauded such policies.
New capacity added in China in the first half of 2016 soared by 300 percent over a year earlier to 20 gigawatts, according to the China Photovoltaic Industry Association, which represents manufacturers.
Manufacturers ramped up production, but demand in China collapsed after a lower subsidy rate took effect July 1.
"The companies are desperately looking for customers," said Nitschke. "The Chinese don't want to dump, but since the government stopped supporting demand in China itself, they need to."
China is the biggest manufacturer but suppliers everywhere contributed to the surplus by expanding despite warnings they would overshoot demand, according to IHS Markit's Zoco.
"This is a common factor across all manufacturers," he said.
New solar generating capacity installed worldwide rose 25 percent last year over 2014 to 56 gigawatts, according to the U.N. Environment Program. Forecasters expect this year's new installations to reach 60 to 75 gigawatts.
"With these low prices, in a number of countries demand is picking up, especially in emerging markets," said Frank Haugwitz, an industry consultant in Beijing.
Projects are under development in the Middle East, Latin America and Africa, where solar used to be too expensive, he said.
A bid in September by a partnership between a Chinese manufacturer, Jinko Solar Ltd., and Japan's Marubeni Corp. to build a proposed 350-megawatt solar power project in Abu Dhabi set a new low in prices. Jinko and Marubeni said they can deliver power for 2.42 U.S. cents per kilowatt hour.
Beijing is encouraging Chinese manufacturers to shift production to India, Southeast Asia, Brazil and elsewhere to reduce the supply glut at home and avoid U.S. and European curbs on solar panels from China.
That is undercutting Indian leaders' hopes of nurturing their own solar technology industry.
The Chinese share of India's solar technology market jumped from 50 percent to 75 percent over the past year, according to Bridge to India, a consulting firm. It said Chinese brands now account for eight India's top 10 suppliers.
Beijing resolved European Union dumping complaints by agreeing to set a minimum price of 56 euro cents per watt on Chinese-made solar panels exported to the 28-nation trade bloc.
ProSun accuses suppliers of violating that pact by charging as little as 40 euro cents per watt and secretly paying rebates or mislabeling Chinese-made panels as coming from other countries.
European manufacturers want the EU to extend the agreement, but groups that promote renewable energy want it scrapped. They say it hampers the spread of solar by inflating costs.