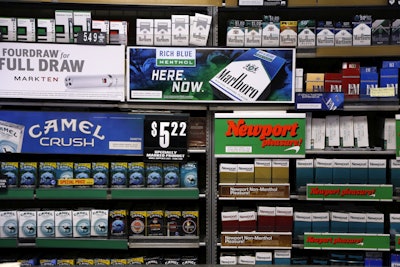 British American Tobacco is offering to buy Reynolds American Inc. in a $47 billion deal that would create the world's largest publicly traded tobacco company and attempt to make up for a decline in smoking in the U.S. and Europe.
With tobacco firms under pressure from health groups in developed economies and increasingly popular electronic cigarettes, a merger of this size would help them consolidate costs and resist competition from Asia, analysts say.
BAT, which is based in London and owns brands like Dunhill, Rothmans and Lucky Strike, has a greater presence in faster-growing regions like Latin America, Africa, the Middle East and Asia.
It is much larger as a company than Reynolds, which is predominantly focused on the U.S., where its Newport, Camel and Pall Mall brands are among the top four in the country.
London-based BAT offered Friday to buy the 57.8 percent of Reynolds it doesn't already own for the equivalent of $56.50 per share, 20 percent more than Thursday's closing price. Investors would receive $24.13 in cash and 0.5502 of a BAT share for each Reynolds share they own.
The deal values Reynolds, based in Winston Salem, North Carolina, at $93 billion.
Shares in Reynolds jumped about 20 percent to $56.50 in premarket trading in New York, while BAT was up 4.1 percent to 50 pounds in London.
The merger "is the logical progression in our relationship and offers all shareholders a stake in a stronger, truly global tobacco and next generation products company," BAT Chief Executive Nicandro Durante said, referring to the firms' expansion into electronic cigarettes.
Reynolds said in a statement that it will evaluate the offer.
Tobacco companies are particularly keen to expand in developing countries to make up for weaker sales in Europe and the U.S., where public awareness about the health hazards of smoking has grown.
"The markets in which these firms are the dominant players are declining, and they face ever increasing competition from Asia in seeking to develop new markets," said Nigel Driffield, professor of international business at Warwick Business School in England.
Asian tobacco companies, he said, face less public pressure to not ramp up sales in developing markets, where public health regulation may not be as strict.
BAT said it had announced the offer before conducting any negotiations with Reynolds to comply with U.S. law. The deal would have to be approved by the independent directors of Reynolds and shareholders of both companies.
BAT employs more than 50,000 people globally and has 200 brands in 200 markets. Reynolds employs 5,700, mostly in the U.S.