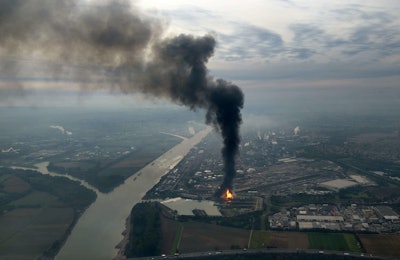 BASF said that one person remains missing in the wake of an explosion that killed two others Monday at a facility in Germany.

Eight people were seriously injured and 17 others suffered lighter injuries due to the explosion and fire at a complex along a river harbor in Ludwigshafen, the city that's home to the chemical giant's global headquarters.

Those individuals were treated on site or in local hospitals; six others returned to work following treatment at BASF's emergency room overnight.
The fire was extinguished as of 9:30 p.m. local time Monday. The two confirmed fatalities involved the company's fire department.

"We are deeply saddened that two employees have died. As fire fighters, they were devoted to saving lives," BASF industrial relations director Margret Suckale said in a post on the company's Facebook page. "Our deepest sympathy lies with the affected people and their families."

The company said that the explosion occurred during work on a pipeline and that the fires impacted pipes containing ethylene and propylene products. A specific cause of the explosion was not immediately clear.
The water used to extinguish the flames was sent to BASF's internal sewage treatment system. Tests showed no elevated chemical levels in the water, ground or air, and a barrier separates the harbor from the Rhine River.

BASF response personnel and the Ludwigshafen fire department remained at the site to conduct cooling and safety procedures.
A BASF gate is closed "until further notice," and the company's steam crackers remained shut down. About 20 other plants are either shut down or only partially running, the company said.