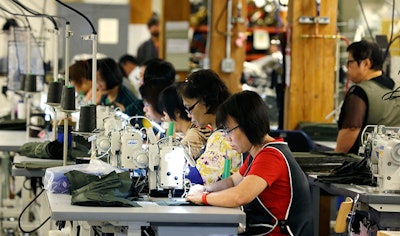 LITTLE ROCK, AK — A Chinese manufacturer, that makes apparel under the Adidas, Reebok and Armani brands, will open a factory in Arkansas, creating 400 jobs, Arkansas Gov. Asa Hutchinson announced this week.
The state has signed a memorandum of understanding with Suzhou Tianyuan Garments Company to invest $20 million in a location, most likely in Little Rock, and create 400 jobs paying an average of $14 per hour, said Hutchinson, who announced the news to reporters via Skype because he was on a trade mission in China.
Tianyuan makes about 10 million articles of clothing annually and now supplies 90 percent of Adidas garments, the governor's office said.
"What's fascinating is these are higher-paying jobs, in terms of the garment industry. It is more highly technical, including robotics," Hutchinson said. "So it'll be interesting to watch as to how the garment industry unfolds in the coming years and how Arkansas can participate in that."
The Tianyuan agreement is the second major deal for Arkansas involving a Chinese company during Hutchinson's term as governor. Earlier this year, Sun Paper announced it would build a $1 billion pulp mill in Arkadelphia and create 250 jobs.
The state's deal with Tianyuan Garments calls for Arkansas to provide a $1 million infrastructure assistance grant, $500,000 for training and an estimated $1.6 million in rebates based on the company's annual payroll, according to the memorandum of understanding released by the governor's office. It also calls for a 65 percent abatement on property tax and the state's assistance to obtain 20 work visas.
"This deal with Tianyuan shows the continued momentum we have with companies looking to invest in Arkansas," said Mike Preston, executive director of the Arkansas Economic Development Commission.