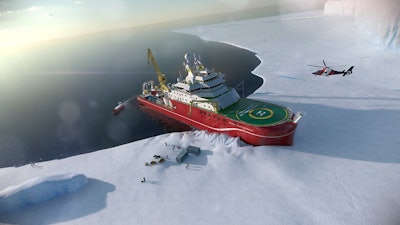 Construction has begun on the vessel that could have been called "Boaty McBoatface" if that name hadn't been quashed by British officials.
Instead, they called it "The RRS Sir David Attenborough" — and the well-known naturalist and broadcaster was there Monday for the maritime ceremony in Merseyside, northwest England.
The 90-year-old Attenborough laid the first piece of keel — part of a tradition said to bring good luck to a ship. The 200 million-pound ($243 million) survey vessel will have a crew of 30 and up to 60 scientists.
Boaty McBoatface topped a "name our ship" poll in April with over 124,000 votes but was not chosen.
All is not lost for Boaty McBoatface enthusiasts as this will be the name of a miniature yellow submarine onboard the vessel.