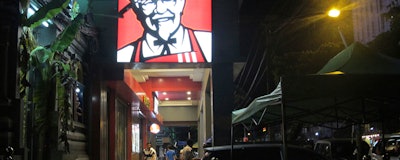 YANGON, Myanmar — KFC's grinning Colonel Sanders and his goatee are among the few prominent signs of U.S. brands or business in Myanmar's biggest city, Yangon.
That will likely change after President Barack Obama ended most remaining U.S. sanctions against this fledgling democracy on Oct. 7. But much hinges on how the government led by former political prisoner Aung San Suu Kyi revamps the country's outdated laws and other policies.
The U.S. had earlier broad prohibitions on investment and trade imposed on this Southeast Asian country of about 60 million over the past two decades. The more targeted restrictions that ended earlier this month were mostly on dealings with army-owned companies and officials and associates of the former ruling junta. A ban on imports of jadeite and rubies from Myanmar also ended.
Up to now, the rush to invest in Myanmar has been dominated by Asian countries, especially China, its main investor and trading partner during its years of isolation. Most U.S. businesses and many other Western ones stayed away, mindful of fines potentially in the millions of dollars and jail terms of up to 20 years.
Foreign investment slowed earlier this year, as companies awaited changes in the investment law, company law and other regulations.
"Genuinely a lot of American business was extraordinarily wary of the sanctions, especially for financial services because of the massive fines," said Sean Turnell, a Myanmar expert and adviser to Suu Kyi's government.
For many Western, not just U.S. firms, restrictions on financial transactions in U.S. dollars, which are processed by banks doing business in the U.S., were the biggest constraint.
"It was too hard, the market is too small and profits were pretty small beer compared to the fines they could get," said Turnell. "You had great difficulty just moving money in and out of the country."
The garment industry could be one of the biggest beneficiaries of the end to sanctions. The United States stopped giving Myanmar special market access under the Generalized System of Preferences in 1989 due to worker rights concerns. When those benefits are restored on Nov. 13 it will regain the right to export about 5,000 products to the United States duty-free.
Nay Aung, whose travel services company, Oway, has launched a car-booking app that is providing about 500-600 rides a day in Yangon, is hoping that will help drive an export boom.
"If multinationals come in, we will benefit," he said. "For us, if the country grows, we are the beneficiary of those investments."
Myanmar was governed by a military junta for more than a half-century. Nearly five years since it began its shift toward a civilian government and a year since Suu Kyi's National League for Democracy party won a landslide election, the country is still just beginning to develop a modern financial sector and rebuild its crumbling roads, ports and buildings, many of which date to Britain's colonial rule.
The new leadership is grappling with extreme poverty, civil war with several ethnic minorities, rampant corruption and narcotics and human trafficking. Massive illegal trade in goods like jade and timber continues.
The sanctions were just part of the problems laid out in a report by the American Chamber of Commerce in July. Chief complaints included a decision by the city government in Yangon, the country's commercial capital, to stop issuing the licenses for new parking spaces that are required to buy new vehicles. That was a blow to big foreign automakers like Chevy and Toyota that want to sell new cars there, but a boon for the already thriving trade in used vehicles from Japan, left-hand cars and trucks widely used on Myanmar's right-hand drive roads.
Still, the country's young, inexpensive workforce and low living standards offer huge potential for growth. GE, on its website, describes Myanmar as a "new sweet spot" for growth in Southeast Asia.
Japanese and other Asian investors have been piling in.
Aeon, Japan's equivalent of Walmart, opened an office in Yangon in 2014 and has a thriving microfinance business. Its first supermarket in Myanmar, a joint venture with a local retailer, opened in the city's Okalapa township in late September, offering thousands of products, most of them imported from Thailand.
Even the KFC, which opened across the street from Yangon's Bogyoke Market in 2015, is a franchise set up by Singapore-listed Myanmar conglomerate Yoma Strategic Holdings.
Some other major U.S. brands got a head start, including Coca-Cola, which has a factory producing for the local market. Ball Corp. has a factory in Yangon's Thilawa Special Economic Zone making cans for Coca-Cola. MasterCard is expanding in the area of ATM cards.
GE is active in energy and other sectors and leases Boeing 737-800s to the country's national airlines. ConocoPhillips and Chevron have stakes in oil and gas exploration and development. Some U.S. businesses, like Caterpillar, have distribution tie-ups in Myanmar with local or other foreign companies.
But the total $248 million U.S. companies have committed since 1988 amounts to less than 1 percent of total foreign investment of about $60 billion. China has invested more than $25 billion, according to Chinese figures.
Trade with the U.S. has also been modest.
Myanmar's imports from the U.S. totaled $227 million in 2015, while exports from Myanmar to the U.S. amounted to $142 million, mostly dried peas, rattan and wood products and travel goods like backpacks, according to the U.S. Trade Representatives website.
The lifting of sanctions is bound to benefit big players no longer on the sanctions lists, like the ex-junta chief, Than Shwe, and Stephen Law, founder of one of the nation's largest conglomerates, whose late father was once described by Treasury as one of the world's key heroin traffickers.
But at the other end of the spectrum, there likely will be little immediate impact, said Jes Kaliebe Petersen of Phandeeyar, a local non-profit devoted to helping start-ups and entrepreneurship.
Ending sanctions has a "signal value," suggesting lower risks of doing business in Myanmar, says Petersen, who is Danish. What remains, though, are problems typical of a frontier economy, such as a dysfunctional financial system, bad roads, and a legal system that has yet to catch up with the country's political evolution.
"It took three months to get money wired into Yangon just to pay my rent," Petersen said when asked about the challenges of doing business in Myanmar. "But on a micro-level, I've never had a single conversation about the sanctions."