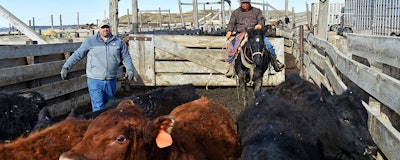 SHEFFIELD, Mont. (AP) — Montana rancher Fred Wacker had thousands of head of cattle fattening up along the Yellowstone River for export to China when President Donald Trump picked a trade fight with the Asian nation.
The dispute threatens a $200 million deal that Wacker helped secure last year to ship Montana beef to China, yet the potential setback to his business plans hasn't diminished his stalwart support for Trump.
"I'm not going to follow him over the cliff, but I'll take a pretty good jump," Wacker said as a small team of cowboys on his Cross Four Ranch herded hundreds of cattle onto trucks headed for summer pasture.
Deep in Montana's ag country, ranchers' and farmers' support of Trump is being put to the test as the president's bellicose threats of a trade war risk their livelihoods. It's a constituency that voted heavily for Trump and that has a lot to lose, both in existing trade and new deals like the one involving Wacker that could send tens of thousands of Montana cattle to China over the next several years.
The conflict faced by Trump's supporters in Montana, where some 28,000 farms and ranches make agriculture a top economic driver in the state, is reflective of the one facing the larger U.S. agriculture industry, which also largely backed Trump but now risks becoming a casualty if a trans-Pacific trade war erupts.
Wacker, his white cowboy hat pulled down tight atop his head as he weighed the outgoing cattle, remains firmly in Trump's camp. He views the Republican president's aggressive stance on China as unsettling but necessary, and hopes it will bring parity to what has long been a lopsided trading relationship between the two nations.
That situation was beginning to reverse itself when Trump reached an agreement with Chinese President Xi Jinping last year to lift a 13-year ban on U.S. beef exports to China. That opened the door to the deal between Montana ranchers and Chinese e-commerce leader JD.com, Wacker said.
Since Trump challenged China on trade, JD.com has "gone silent," Wacker said, but he remains confident in the president's approach.
"We would not even be talking about this if it weren't for the Trump administration," he said of the deal he helped broker during a trip to Beijing last year.
This largely rural state, once known for its independence in voting for candidates' individual qualities over political party, has grown a deeper shade of red over the past decade as voters increasingly break toward GOP candidates. That trend culminated in 2016 with Trump's 20-point trouncing of Democrat Hillary Clinton in Montana.
The GOP now hopes to use that momentum to oust the state's Democratic senator, Jon Tester, in this fall's election.
Trump on Saturday called for Tester to resign for what the president called false allegations that scuttled the nomination of Ronny Jackson to lead the Department of Veterans Affairs. Tester did not respond directly but said he would keep fighting for veterans.
Tester, who is seeking a third term, is himself a farmer from the little town of Big Sandy and has already used the tariff issue to scold Trump.
"If you put me and my neighbors out of business — not you personally, but the administration — we've got a major problem here," Tester told Agriculture Secretary Sonny Perdue earlier this month.
Trump's victory paid off for farmers and ranchers in the form of rollbacks of environmental regulations imposed during the Obama administration that farmers and ranchers considered burdensome, including ones that could affect irrigation ditches, biotechnology and pesticides.
Trump's tactics on trade have been more unsettling for the industry. First, he announced plans to renegotiate the North American Free Trade Agreement, which caused some Mexico importers to look to South America for crops like wheat. Then, he pulled out of a trans-Pacific trade deal that he viewed as unfavorable to the U.S.
After his threats to China elicited a proposal for a retaliatory tariff on U.S. beef, wheat and other products, Trump floated rejoining the trans-Pacific deal to get more leverage over Beijing. He abruptly dropped the idea days later.
The whipsaw changes roiled agriculture markets, and not everyone who makes a living off the land retained the same fealty to Trump as Wacker.
Wheat farmers in particular worry about how tariffs would affect their market, which has gone through a turbulent stretch in recent years. More than 70 percent of Montana wheat is exported, primarily to Asia, according to the Montana Wheat and Barley Committee. Although less than 10 percent of that grain ends up in China, farmers say the potential for growth in the nation of almost 1.4 billion people is huge.
Larry Johnson, a Montana farmer who grows wheat, barley, peas and mustard on nearly 16 square miles (41 square kilometers) near the small community of Kremlin, said he sells some wheat to China, but that's not his biggest concern. What he worries about is that North Dakota soybean farmers will switch to wheat because of Chinese tariffs on soybeans, putting them in competition with him.
"All of our crops are intertwined," he said. "That directly affects our bottom line. I could see a 10 percent loss of income easily."
Johnson described himself as a "progressive conservative" — conservative on financial matters and progressive on social issues. He wasn't in favor of either the Republican or Democratic presidential candidate in 2016, but said the agriculture industry's support of Trump is giving way to the realization that the president doesn't understand the industry.
Trump's public comments serve only to create uncertainty in the market at an already uncertain time for many farmers, he said.
"One day the president puts a tweet out, and the next day the price of soybeans is down 45 cents," Johnson said. "It makes you very nervous."
The ag industry is keenly aware that China's trade policies have kept U.S. products out of the market there, said Montana Grain Growers Association President Michelle Erickson Jones. She said she agrees with Trump that China must be held accountable, but she favors more conventional routes, such as going to the World Trade Organization.
About 280 miles (450 kilometers) east of Johnson's Kremlin farm, Buzz Mattelin grows durum wheat, barley, beets and lentils in Culbertson. He said he is unhappy that his commodities are being used as bargaining chips in a potential trade war, and worries farmers like him will end up as collateral damage.
"I'm patriotic, and I'm going to do my share. But I don't want to bear all the pain, either," Mattelin said.
___
Volz reported from Helena.