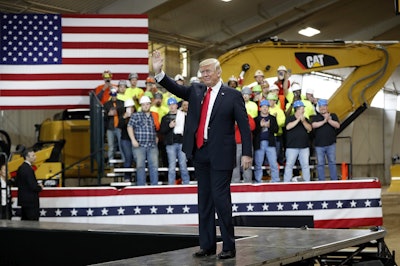 President Donald Trump on Thursday threatened to "hold up" the trade agreement his administration finalized with South Korea this week in an effort to gain more leverage in potential talks with North Korea.
Speaking on infrastructure in Ohio, Trump highlighted the recently completed renegotiation of the Korea-U.S. free trade agreement, but he warned, "I may hold it up until after a deal is made with North Korea." The announcement comes as the two Koreas have announced plans to hold bilateral meetings next month in advance of a possible meeting between Trump and North Korea's Kim Jong Un by the end of May.
Trump noted the "rhetoric has calmed down" with North Korea, but added he may hold up the first trade agreement concluded by his administration, "because it's a very strong card and I want to make sure everyone is treated fairly."
Trump didn't explain why the trade deal and North Korea talks couldn't proceed simultaneously. But the U.S. is counting on close U.S.-South Korea alignment to present a united front as both countries press the North to denuclearize. The complex and politically charged issue of the renegotiated trade deal could prove distracting just as the U.S. is pursuing high-stakes diplomacy with Pyongyang.
The president's visit to Richfield, Ohio, was meant to be a push for upgrades to the nation's aging roads and bridges in his first public appearance since an adult-film actress claimed on national TV that they had sex months after Trump's wife gave birth to his fifth child.
Instead, Trump turned what was billed as a "major speech" on infrastructure into 53-minute campaign-style rally, with talk of defeating the Islamic State and caring for veterans — not to mention a plug for the television reboot of "Roseanne."
He called for a plan deploying $200 billion in federal money to spur at least $1.5 trillion in spending over a decade to repair or replace highways, bridges, ports, airports and other infrastructure.
"We will transform our roads and bridges from a source of endless frustration into a source of incredible pride," he said.
But in a concession to political realities in Washington, where lawmakers are increasingly focused on their re-elections this fall in what is set to be a difficult campaign cycle for Republicans, Trump said, "You're probably going to have to wait until after the election."
Trump is claiming Democrats don't want to work with him on infrastructure because they don't want to give him any additional "wins" since his tax bill passed in December.
Trump unveiled the sweeping infrastructure proposal in February and cast it as one that could garner bipartisan support. But the plan relies heavily on state and local governments for the bulk of the spending, raising concerns among members of Congress about the possibility of higher commuter tolls and the sale of assets to raise the money.
There is little expectation that Congress will take up a sweeping infrastructure proposal along the lines of what Trump envisions — or that Republicans in control of the House and Senate will write their own legislation — as lawmakers begin to shift their focus to the challenge of getting re-elected in November.
Instead, Congress plans to package a series of related measures, including beefed-up spending in the big budget bill Trump signed into law last week. That bill, which funds the government through Sept. 30, included more money for transportation projects, rural broadband and other investments.
House Speaker Paul Ryan, R-Wis., promoted it in a tweet as "long-overdue updates to our country's infrastructure."
Trump's speech in northern Ohio was his first appearance in public since Friday, when he spoke at the White House and criticized a massive government funding bill he had signed into law. The president, first lady Melania Trump and their 12-year-old son, Barron, spent last weekend at their Palm Beach, Florida, estate. Trump returned to the White House on Sunday shortly before CBS' "60 Minutes" aired its interview with porn actress Stormy Daniels, who says the married Trump had sex with her in his Lake Tahoe hotel room in 2006.
Trump, through his personal attorney and White House aides, has denied the affair. He has not commented on the allegations himself.
In Ohio, Trump also discussed findings in a new report from the White House Council of Economic Advisers saying the infrastructure proposal would contribute modestly to economic growth over the 10-year period and help put hundreds of thousands of unemployed laborers back to work.
Trump was returning to his Florida home after the speech.