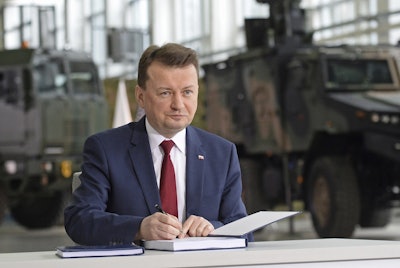 Poland signed a $4.75 billion deal with the United States Wednesday to buy air defense Patriot missile systems as it seeks to bolster its defenses against a resurgent Russia.
President Andrzej Duda described the deal for the state-of-the-art anti-aircraft and anti-missile systems as "historic" for his country and its armed forces.
"It's a lot of money, but we also know from our historical experience that security has no price," Duda said.
The defense deal is Poland's largest in almost 30 years.
The system is compatible with technology used by NATO and U.S. troops based in Poland, Duda said. It includes 16 launchers, four radars and the latest fire control system.
Parts of the system will be made in Poland, a boost for the country's armaments industry.
U.S. Ambassador Paul Jones called the deal a milestone that brings the NATO member into a family of 15 countries that rely on the Patriot system for their airspace security.
"We are allies forever," Jones said in fluent Polish.
Prime Minister Mateusz Morawiecki has said the Patriot system will increase security in Poland and the surrounding region in an "unprecedented way."
On NATO's eastern flank, Poland is upgrading its defense systems and modernizing its military to reach the highest Western standards after Russia's 2014 annexation of Crimea from Ukraine.
Defense Minister Mariusz Blaszczak signed the document at an armaments plant in Warsaw.