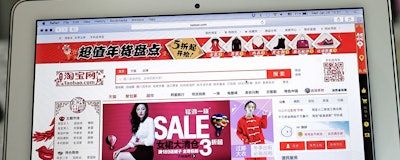 BEIJING (AP) — China on Thursday criticized recent moves by the U.S. targeting the sale of fake goods and Chinese telecoms equipment, saying Washington lacks "objectivity" in its approach to Chinese businesses.
Separately, the foreign ministry sought to deflect accusations that China is requiring foreign firms to hand over intellectual property into order to gain market access — the basis of an ongoing U.S. trade investigation.
Commerce Ministry spokesman Gao Feng told reporters the U.S. Trade Representative lacked direct conclusive evidence and supporting data for listing three Chinese online commerce platforms and six physical bazaars within China as "notorious markets" engaging in commercial-scale copyright piracy and trademark counterfeiting.
"We have to question the objectivity and credibility of the relevant U.S. department in issuing its report," Gao told reporters at a news conference. "The Chinese government has always attached great importance to the protection of intellectual property, the results of which are obvious to all."
The USTR's Notorious Markets List issued this month said the offending platforms and markets based in China and elsewhere caused financial losses for U.S. businesses and copyright holders and could pose safety risks. It does not involve penalties but the list aims to motivate private businesses to reduce piracy and counterfeiting.
Among the online platforms listed was e-commerce giant Alibaba's online marketplace Taobao, which has struggled for years to shed its reputation as an Internet emporium for fake goods. Physical outlets included Beijing's famed Silk and Hongqiao markets popular with tourists.
Alibaba Group President Michael Evans said in a statement the company has worked above and beyond on each of the list's concerns to protect brands and copyright holders.
"In light of all this, it's clear that no matter how much action we take and progress we make, the USTR is not actually interested in seeing tangible results," Evans said, adding that the company had "no other choice but to conclude that this is a deeply flawed, biased and politicized process."
At the news conference, Gao also criticized a U.S. House bill introduced on Jan. 9 that would prohibit government purchases of telecoms equipment from Huawei Technologies Company and smaller rival ZTE Corporation, citing their ties to the Chinese military and backing from the ruling Communist Party.
He said the bill would harm U.S.-China cooperation in telecommunications and shake the confidence of Chinese enterprises in the U.S.
Huawei's U.S. business suffered a setback when a congressional panel recommended in 2013 that phone carriers avoid doing business with it or ZTE. Beijing rejected the report as false and an effort to keep Chinese companies out of the U.S. market.
Earlier this month U.S. carrier AT&T dropped plans to sell Huawei's smartphones in the U.S.
Huawei, founded in 1987 by a former military engineer, is the world's No. 3 phone maker and first Chinese brand to break into the top ranks of global technology suppliers.
On the issue of forced transfer of intellectual property and proprietary technology, foreign ministry spokesman Lu Kang said China had no law mandating such practices.
President Donald Trump has also threatened to level a "fine" on China over the practice, potentially including trade sanctions and retaliatory tariffs.
"Such cases might occur in some commercial cooperation, but that is purely the market behavior between the enterprises," Lu said at a regularly scheduled news conference.
"Fair exchange is no robbery. There is no interference from the government," he said, adding that China would "firmly defend its legitimate rights and interests."