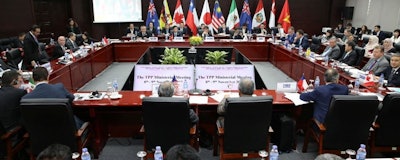 Talks on a Pacific Rim trade pact abandoned by U.S. President Donald Trump appeared to have stalled Friday as Canada balked at a basic agreement worked out in ministerial-level talks hours before.
Trump pulled out of the Trans-Pacific Partnership in January. Leaders of the 11 countries remaining in the TPP had been due to meet and endorse a deal worked out in last-minute talks overnight.
Japanese Prime Minister Shinzo Abe said Friday that the 11 leaders had to postpone their meeting on the sidelines of the annual summit of the Asia-Pacific Economic Cooperation forum in Danang, Vietnam.
"It was said that it is not at a stage where (the agreement) can be confirmed at the summit level," said Abe, who was to co-chair the meeting. He made the comments to Japanese reporters after meeting with his Canadian counterpart, Justin Trudeau, who stayed away from the planned TPP leaders' gathering while most other leaders showed up.
There was no immediate word from Canada on its stance. However, Trudeau had said days earlier that Canada would not be rushed into an agreement.
The chances for a deal by the time the summit ends on Saturday were unclear.
Earlier in the day, officials from Japan and some other countries expressed differing opinions on whether an "agreement in principle" had been reached.
The TPP member countries are trying to find a way forward without the U.S., the biggest economy and, before Trump took office, one of its most assertive supporters. Trump has said he prefers country-to-country deals and is seeking to renegotiate several major trade agreements to, as he says, "put America first."
Vietnamese officials did not immediately respond to requests for comment.
Trump reiterated his markedly different stance on trade before the 21-member APEC summit convened late Friday with a gala banquet.
The U.S. president told an APEC business conference that "We are not going to let the United States be taken advantage of anymore." He lambasted the World Trade Organization and other trade forums as unfair to the United States and reiterated his preference for bilateral trade deals, saying "I am always going to put America first."
Trump said he would not enter into large trade agreements, alluding to U.S. involvement in the North American Free Trade Agreement and the TPP.
In contrast, Chinese President Xi Jinping told the same group that nations need to stay committed to economic openness or risk being left behind.
The Chinese president drew loud applause when he urged support for the "multilateral trading regime" and progress toward a free-trade zone in the Asia-Pacific.
APEC operates by consensus and customarily issues nonbinding statements. TPP commitments would eventually be ratified and enforced by its members.
But even talks this week on a declaration to cap the APEC summit had to be extended for an extra half day as ministers haggled over wording. It's unclear what the exact sticking points were, but officials have alluded to differences over the unequal impact more open trade has had on workers and concerns over automation in manufacturing that could leave many millions in a wide array of industries with no work to do.
As a developing country with a fast-growing export sector, this year's host country, Vietnam, has a strong interest in open trade and access for its exports to consumers in the West. The summit is an occasion for its leaders to showcase the progress its economy has made thanks largely to foreign investment and trade. Danang, Vietnam's third largest city, is in the midst of a construction boom as dozens of resorts and smaller hotels pop up along its scenic coastline.
APEC's members are Australia, Brunei, Canada, Chile, China, Hong Kong, Indonesia, Japan, South Korea, Malaysia, Mexico, New Zealand, Papua New Guinea, Peru, Philippines, Russia, Singapore, Taiwan, Thailand, the U.S. and Vietnam.