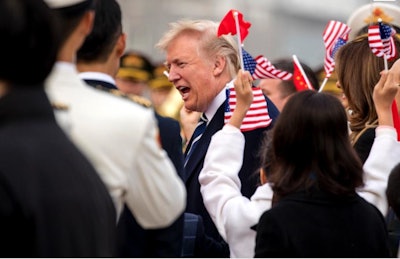 President Donald Trump's decision to withdraw from a far-reaching Pacific Rim trade pact has scarcely dented the push for freer trade in the region, judging from the frenetic growth of exports of clothing and shoes, cellphones and computers from booming Vietnam.
The nation of 95 million is thriving from surging trade and investment even without the advantage its exports might have gained from its participation in the Trans-Pacific Partnership agreement rejected by Trump. The changes are evident in Danang, a former battlefield transformed into a tourism and investment hub that is hosting this week's annual summit of the Asia-Pacific Economic Cooperation forum.
Leaders of the 11 remaining TPP members, representing roughly 13.5 percent of the global economy, are to meet on the sidelines of the APEC summit to seek an agreement in principle that unlike the original accord would not require U.S. involvement. Meanwhile, a 16-member region-wide pact called the Regional Comprehensive Economic Partnership is also under negotiation. It encompasses China and India but also does not include the U.S.
"As all these countries around the world are moving forward on trade and are getting better deals for their economies, the U.S. is falling behind and that's a real problem for American companies," said Adam Sitkoff, executive director of the American Chamber of Commerce in Hanoi.
Vietnam's export sector has blossomed as Chinese and other manufacturers of T-shirts, pants and other inexpensive clothing and shoes moved their factories to Southeast Asia to take advantage of the region's lower wages and anticipated tariff cuts under the TPP. Much of the world's production remains in China, but supply chains are stretching ever farther into Southeast Asia and beyond, into South Asia and Africa, in search of cheaper labor and new, faster growing markets.
Demand is surging so rapidly that factory bosses have a hard time finding and keeping skilled workers, said Phan Minh Chinh, president and CEO of Pro Sports Giao Thuy Joint Stock Co., a garment factory outside Vietnam's capital, Hanoi.
"With or without TPP, Vietnam's apparel exports to the U.S. continue to grow," said Chinh, who counts among his customers brands such as Walmart, Zara and The North Face. "Even without TPP, our production continues and we still get many orders from our U.S. clients."
Nearly a decade after the 2008 financial crisis, this region's commitment to globalization — to weaving its economies ever more tightly into the web of world supply chains, consumer markets and finance — is unshaken. On a regional level, and in Vietnam, data show trade and investment growing faster than ever.
The administration of former President Barack Obama championed the TPP as a strategy for buttressing U.S. influence and growing markets in the booming Asia-Pacific region. Many businesses planned their investments in anticipation the deal would be ratified.
Without the U.S., the TPP runs the risk of being eclipsed by the 16-member RCEP (pronounced "are-cep"), which has fewer requirements than the TPP regarding labor rights, intellectual property and environmental protection. Its members hope to finalize an agreement by the end of this year.
The TPP was meant to be the foundation for forging a free-trade zone akin to the EU in the Asia-Pacific. The RCEP could play a similar role: participating countries account for almost half of the world's population and contribute about 30 percent of global GDP and over a quarter of world exports.
Vietnam is a member of both groupings. Now, the U.S. is not in either one.
"When we look at Asia, we see a noodle bowl of trade agreements already, all these countries negotiating all these things with each other, and unfortunately the U.S. was not in almost any of these agreements," said Sitkoff.
While U.S. companies are agile enough to adjust their supply chains to take into account the pullout from the TPP, he said, it does put them at a disadvantage.
Both trade deals face conflicts over specific provisions. Critics say both give too much power to corporate interests at the expense of the environment and labor protections.
The current 11 TPP countries have said they are open to others joining, provided they accept the trade agreement's higher standards on labor and environmental protection. And they are hoping the U.S. will eventually return to the pact.
Before leaving Washington for Asia, Trump dashed those hopes.
"Our trade deals are horrible. ... It's very sad for our country. Every trade deal we have is disastrous. We're renegotiating our trade deals," he said.
While visiting Beijing earlier this week, Trump complained there was a "very one-sided and unfair" trade relationship with China. His visit to Beijing coincided with announcements that the U.S. and China had signed agreements valued at more than $250 billion for products including U.S.-made jet engines, auto parts, liquefied natural gas and beef. Such contract signings are routine with foreign leader visits to Beijing and are intended to defuse complaints about China's trade policies.
But they are also in keeping with Trump's preference for country-to-country dealings.
The Trump administration has shifted the U.S. strategy on trade in various ways other than insisting on bilateral deals instead of multi-country arrangement, imposing rarely used options such as actions based on national security concerns and initiating investigations that normally would be requested by companies, Chad Brown of the Peterson Institute for International Economics wrote in a report in June.
While the bureaucrats haggle over trade rules, the landscape of global commerce is ever changing.
Like China, Vietnam started out exporting clothing, shoes and other inexpensive items. Now, it's the largest mobile phone production base for Samsung, the world's largest mobile phone maker. The value of Vietnam's exports of phones and phone parts, computers and other electrical components up to August amounted to 1.6 times the value of its clothing and shoe exports.
"Trade grows very fast in this region and that grows economies," said Alan Bollard, executive director of APEC's secretariat and a former governor of New Zealand's central bank. "Many people have come out of poverty and joined the middle class thanks to that process."
"We know it's a complex issue, but there's generally a feeling we want more trade and more growth," he said.