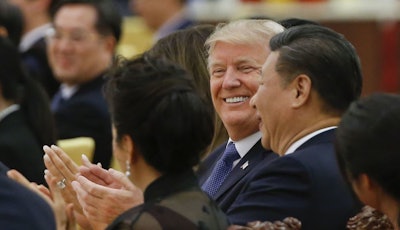 China took what it called a major step toward opening its financial industry with a promise Friday to ease limits on foreign ownership of banks and securities firms following a visit by U.S. President Donald Trump that was dominated by trade issues.
The announcement by a Cabinet official appeared to respond to mounting U.S. and European complaints that Beijing hampers foreign activity in a variety of industries in violation of free-trade commitments. The American Chamber of Commerce in China, which has appealed to Beijing to ease market barriers, said it looked forward to seeing details of the latest changes.
The announcement followed a series of multibillion-dollar contract signings with American companies during Trump's visit in a tradition aimed at blunting criticism of Beijing's trade surpluses and market barriers.
China will lift its limit on foreign ownership of securities, fund management and futures companies from a minority stake of 49 percent to a majority stake of 51 percent and end restrictions after three years, the official, Zhu Guangyao, said at a news briefing. He said a similar change would be made for life insurance companies and those would end in five years.
Regulators also will abolish restrictions that limit a single foreign investor's stake in a Chinese bank to 20 percent and cap total foreign ownership of any institution at 25 percent, Zhu said.
"In other words, foreign owners can have full ownership of such companies" after three to five years, he said. "This opening up is decisive and the effect will be far-reaching."
Beijing will also gradually reduce tariffs on automotive imports, Zhu said, without providing details.
The announcement came hours after Trump left Beijing to attend an Asia-Pacific economic meeting in Danang, Vietnam.
Asked about the timing of the changes announced Friday, Zhu cited President Xi Jinping's comments at the ruling Communist Party's twice-a-decade congress last month. Xi promised freer markets but also emphasized that Beijing wants to build up state-owned companies that dominate finance, energy and other industries.
American, European and other foreign companies complain that despite official pledges to open China's economy, they are hampered by ownership limits and other restrictions in finance, health care and other promising industries.
"I look forward to seeing the details, as opening up the financial sector in particular could greatly improve the allocation of financial resources and support China's future development," William Zarit, chairman of the American Chamber, said in an email. "These restrictions, and many others yet to be addressed, have been hindering economic activity in China for far too long."
Ahead of Trump's visit, the American Chamber had expressed concern that his focus on trade in goods might mean he paid less attention to complaints about restrictions on access to finance, health care and other industries in China's state-dominated economy.
Trump has made narrowing the U.S. trade deficit with China — $347 billion last year — a priority. U.S. Commerce Secretary Wilbur Ross said that was a "central focus" of Trump's talks with Xi.
Xi promised Thursday to open China's state-dominated economy wider, but foreign companies have been disappointed when previous pledges of liberalization turned out to include restrictions that limited their impact.
For its part, Zhu said Beijing wants Washington to ease security-related export controls on high-tech goods and take action on what Beijing says is a promise to grant the country market-economy status.
China has pressed the United States for years to end controls on "dual use" technologies with both civilian and military uses such as supercomputers and advanced materials that can be used in warplanes and missiles.
Beijing says Washington and other governments agreed to grant market-economy status last year as part of China's 2001 accession to the World Trade Organization. That would make it harder for them to bring anti-dumping and other cases against China.
The United States, the European Union, Japan and other governments reject China's assertion and say Beijing has yet to follow through on liberalization required to qualify.
This week's contract signings give Trump the opportunity to claim a rare political win following a first year in office marked by little legislative progress on health care and taxes.
Commerce Minister Zhong Shan said agreements signed Thursday at a ceremony attended by Trump and Xi totaled $253.4 billion, though many were memoranda of understanding or other arrangements that were less than firm contracts. Commercial sales announced appeared to total about $65 billion, many involving goods Chinese companies routinely buy.
That was on top of $9 billion in contracts signed by the two sides on Wednesday covering sales of soybeans, pork, beef and other goods.
Such contract signings are a fixture of visits to Beijing by foreign leaders and are meant to defuse trade complaints. They often represent purchases already made by Chinese mobile phone makers, airlines and other customers that are collected for the visit, which means they have little effect on the trade balance.