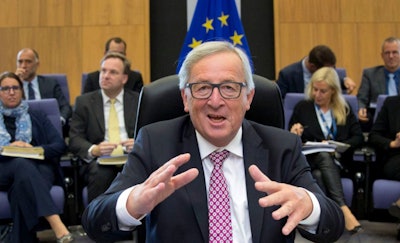 The European Union is celebrating the entry into force of a major trade agreement with Canada as a boost for multilateralism at a time when the United States is looking to renegotiate trade deals.
European Commission President Jean-Claude Juncker said Wednesday that the pact exemplifies EU trade policy as "an instrument for growth that benefits European companies and citizens, but also a tool to project our values, harness globalization and shape global trade rules."
The pact provisionally enters force Thursday. Aspects like investment protection won't take effect until all parliaments endorse them. Belgium's Wallonia region almost derailed it by demanding concessions.
The accord scraps most customs duties, cuts prices and improves choices for consumers. Opponents say it undermines labor, environmental and consumer standards and allow multinationals to crush local companies.