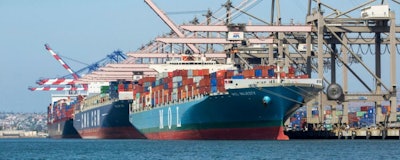 China has announced a crackdown on violations of patents and trade secrets in an effort to mollify foreign companies ahead of a visit to Beijing by U.S. President Donald Trump.
The crackdown might give Beijing diplomatic ammunition to respond to mounting U.S. and European trade complaints. But it fails to address what foreign companies say are bigger problems with intellectual property protection.
The four-month campaign will attack theft of foreign trade secrets and violations of patents, copyrights and trademarks, according to a Ministry of Commerce announcement this month. It says the goal is to "increase foreign investment."
Investment into China fell in the first half of 2017 following two decades of regular double-digit annual increases. That reflects what business groups say is growing frustration with difficult operating conditions and regulatory and other hurdles.
Companies complained for years that China was the global center for unlicensed copying of goods ranging from Hollywood movies and designer clothes to drugs and computer software. More recently, companies complain that Chinese entities try to steal technology and other trade secrets, sometimes with government encouragement.
Beijing has increased some penalties, but business groups say the Communist government needs to go much further in developing its enforcement and court system to protect intellectual property rights on which its economy increasingly depends.
"As welcome as further public commitments to protecting IPR are, this cannot be achieved through a campaign-style approach," said Lance Noble, policy director for the European Union Chamber of Commerce in China.
"It requires a sustained commitment to enforcing existing laws and applying protections equally to foreign and domestic companies," Noble said in an email. "Doing so is in China's own interest."
In a survey this year, the American Chamber of Commerce in China said the share of its member companies that cited China as a global priority dropped to 56 percent from a peak of 78 percent in 2012.
The chamber said American companies were reconsidering investment plans in China due to "unfavorable regulations" and "uncertainty about intellectual property protection." It said 72 percent considered positive U.S.-Chinese relations important to their business but 83 percent expected them to remain the same or deteriorate.
The two governments say Trump is likely to visit China this year, though no date has been announced.
The American president agreed in April to temporarily set aside trade disputes while Washington and Beijing cooperate over North Korea. But U.S. officials have criticized Chinese policy with increasing force in recent weeks.
On Monday, the U.S. trade representative, Robert Lighthizer, complained in a speech in Washington that Chinese efforts to create industrial champions and induce foreign companies to hand over technology threaten the world trading system.