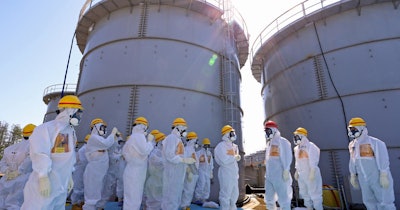 A Japanese court ruled Friday that a utility, not the government, should pay compensation to dozens of former residents of Fukushima for losses to their livelihood caused by reactor meltdowns at a nuclear plant after a massive earthquake and tsunami in 2011.
Chiba District Court ordered Tokyo Electric Power Co. to pay a total of 376 million yen ($3.4 million) to most of the 45 plaintiffs who sought compensation over the loss of their livelihoods and communities because of radiation contamination. The plaintiffs sought 2.8 billion yen ($25 million) altogether.
Friday's ruling was closely watched as a measure of government responsibility. The court dismissed the plaintiffs' claim that the government should also be held responsible for failing to enforce tsunami safety measures.
It said the government could have foreseen the risk of a possible massive tsunami, but the damage to the nuclear power plant might not have been avoided even if safety measures had been implemented. The earthquake triggered a tsunami estimated to have been higher than 15 meters (50 feet).
Investigations have found that TEPCO in 2008 internally produced an estimate of a possible tsunami as high as 15.7 meters (52 feet).
The court ruled, however, that the plaintiffs deserved to be compensated for the loss of their livelihood as a whole, not just their tangible assets.
The March 2011 earthquake and tsunami cut off power to the Fukushima Dai-ichi plant and its cooling systems, sending three reactors into meltdown and causing more than 100,000 people to leave their homes due to the spread of radiation and concerns about the impact on health.
Various investigations by the government, parliament and civil groups have identified collusion between regulators and TEPCO and a lack of a safety culture at the utility as the main causes of the accident.
About 30 other compensation suits filed by tens of thousands of former Fukushima residents are still pending. Friday's ruling was the second. An earlier decision in March by another court near Tokyo ordered both the government and TEPCO to pay compensation, though the amount granted was much smaller.
The wrecked Fukushima plant's decommissioning is expected to take decades.