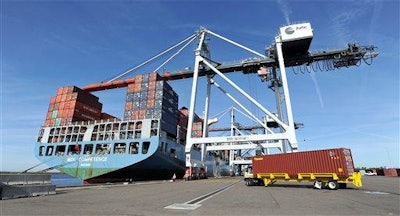 The World Trade Organization has revised sharply upward its forecast for world trade growth this year to 3.6 percent, citing "resurgence in Asian trade flows" and a rebound in North American import demand.
WTO had previously forecast a growth of 2.4 percent. The upturn compares to what the Geneva-based trade body called a "lackluster" performance of 1.3 percent growth last year.
Director-General Roberto Azevedo hailed the "welcome news" Thursday, but warned the world economy still faces "substantial risks" that could undermine recovery.
He said risks included geopolitical tensions, economic fallout from natural disasters, and "protectionist rhetoric" that could translate into trade-restricting policies.
WTO's revision was partly due to an increase in the forecast for overall world economic growth to 2.8 percent this year, from 2.6 percent in 2016.