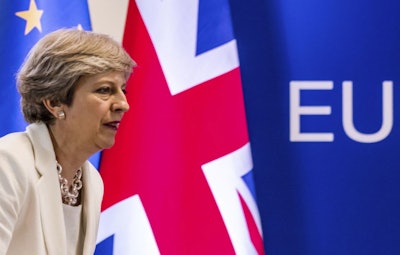 Free movement to Britain from European Union countries will end when the U.K. leaves the bloc in March 2019, Prime Minister Theresa May's spokesman said Monday. But he acknowledged it's not yet certain what migration arrangements will look like after that.
Spokesman James Slack said that "other elements of the post-Brexit immigration system will be brought forward in due course."
"It would be wrong to speculate on what these might look like, or to suggest that free movement will continue as it is now," he said.
May's government is divided on how to implement Brexit, and ministers have been sending mixed signals about the U.K.'s future relationship with the bloc.
The government says that Britain will leave the bloc's single market and customs union, and end free movement from EU countries. But officials also say the changes, which have huge economic implications, won't happen overnight.
Last week Treasury chief Philip Hammond said Britain will abide by some EU rules for up to three years post-2019, suggesting some form of continued free movement to help businesses avoid a "cliff edge."
Hammond is one of several ministers who favor a compromise "soft Brexit" to ease the economic shock of leaving the EU.
But Trade Secretary Liam Fox, who is strongly pro-Brexit, said the Cabinet has not agreed a position on immigration policy.
"I have not been involved in any discussion on that," Fox told the Sunday Times.