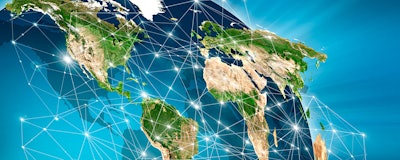 It's no secret that the manufacturing industry has undergone tremendous change over the past several decades. Long after the boom of the industrial revolution that cemented manufacturing as an economic force, the conversation has shifted over the past 30 years to focus on cutting jobs in the name of automation and a geographic changeover in manufacturing power. What hasn't changed is a continued focus on advancement. KPMG recently reported that 74 percent of manufacturing industry organizations put a high or extremely high priority on growth in the coming year. But there are limits on the amount of growth that can be achieved domestically. Today's manufacturing organizations must consider the role a connected global economy plays in enabling the level of expansion they aim to achieve.
Technology advancements have allowed communications and connectivity to reach virtually every corner of the globe. Cloud computing, mobile technologies and the Internet of Things (IoT) has made the world smaller by connecting more people and devices than ever before. The implications of these technologies are vast, and digital capabilities have given way to automated processes that have made it easier than ever for manufacturers to expand globally and reach new markets. But to do this successfully, machines must be able to "speak" the local native language so they can develop and roll-out products that resonate with today's global markets.
The key to success during this time of accelerated growth is consistency and accuracy. Intelligent machines must be able to communicate with each other, manuals must be legible across languages and content must be localized to meet the needs of each and every region.
All of these forces make it imperative for manufactures to refocus their business strategies and infuse translation and localization processes to ensure that machines are streamlined and automated across global markets. This will enable organizations to meet global product lifecycle and customer marketing needs and will ultimately increase efficiency and cater to global expansion.
There are several key focus areas manufacturing organizations need to consider when building their localization strategies. Software and applications must be localized to precision to ensure a consistent product and process for all manufacturing outposts globally. Additionally, website and marketing materials should be tailored to resonate with diverse constituents around the globe, or companies risk alienating or even offending their customers. Finally — and perhaps most importantly — organizations must set themselves up to adhere to local compliance and industry regulations. A critical component of regulatory compliance is making sure all product information is accurately communicated with customers in any language.
Particularly on the content marketing front, there is still significant work to be done in bringing the manufacturing industry up to speed. A recent study commissioned by the Content Marketing Institute specific to the manufacturing industry found that only 18 percent of manufacturing organizations have a documented content marketing strategy in place. Half of respondents categorized themselves as young or in the first steps phase of content marketing maturity. At the same time, 74 percent of organizations plan to produce more content than in the previous year, which points to a strong need to develop effective global content strategies.
In spite of all this, there are clear global content marketing leaders within the manufacturing arena. Johnson Controls, a global manufacturer of automotive, HVAC and other industrial materials, has seen success in meeting the needs of an increasingly connected global customer base. The company implemented a centralized infrastructure to create and deliver consistent and relevant content across channels, products and regions. The model allows marketers to put out a message from one central point, and the owners of channels can see the message and optimize it for their channel based on individual goals and audience. The new approach streamlines processes, optimizes channels and enforces consistent messaging.
As manufactures continue to expand on a global scale, their focus must shift to provide products and services that are presented in a consistent and appropriate way to each and every market. Localization efforts present the opportunity to open up new markets, meet customer needs and maintain cultural relevancy for global audiences, ultimately ensuring growth while enhancing the organization's image on a global scale.
Arnold Koh is Sr. Director of Global Offerings at Lionbridge.