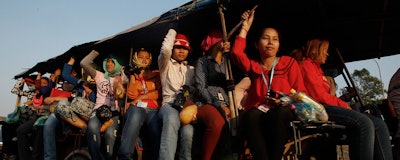 Phnom Penh, Cambodia — A truck transporting Cambodian garment workers to their factory flipped over at a curve Tuesday, injuring 54 of them, including seven who are in critical condition, police said.
The driver, who fled the scene, appeared to have been going too fast and crashed at a bend in the road in the eastern Svay Rieng province, police Gen. Roth Ron Veasna said.
He said it was raining and the road was slippery. The driver was unhurt while all the passengers were injured.
This is the third such road accident this year involving garment workers being transported to their factories. Cambodia's clothing and footwear manufacturing industry, the country's biggest export earner, employs about 700,000 people. In 2015, the Southeast Asian nation shipped more than $6 billion worth of products to the United States and Europe.
An accident involving two trucks carrying garment workers in Kampong Speu province in January left five dead and 65 injured. In May 2015, at least 18 garment workers were killed and nearly two dozen injured in eastern Cambodia when their van was hit by a speeding bus.