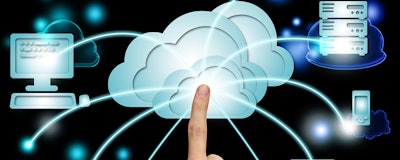 Companies have traditionally struggled to access and manage data across multiple departments. Advancements in technology now allow companies to tap into a variety of sources for a wider assessment of risks and opportunities. According to a recent report, "Shaping the Finance Function of Tomorrow," the top two priorities for senior finance executives are managing cost and profitability (32 percent) and achieving business growth (23 percent). These goals can only be achieved if the right tools are embraced. By utilizing cloud-based solutions, companies can take advantage of benefits that include risk minimization, operational improvement and establishing trust.
Risk Minimization
Companies are susceptible to a seemingly infinite number of risks. This becomes more apparent with larger businesses that span across the globe. To alleviate stress, companies must first identify a large pool of anticipated risks. From there, they should create a short list of risks that need to be focused on more closely, based on how damaging the consequences may be. Utilizing the Cloud gives companies on-demand access to a shared system of data and resources, making this process a more tangible and efficient undertaking. Implementing a system of risk prioritization will not only help in managing and resolving issues more effectively, but it will ensure that each team member involved is on the same page when it comes to where time and effort should be spent — from project manager to CEO and all in between.
All of the strategic planning and monitoring in the world does not exempt a company from the occasional issue. Learning from missteps and mistakes is extremely valuable for a business — more so when there is data and resources to substantiate recommended solutions. The key is tapping into historical data in the Cloud to gain insight in order to prevent these risks in the future.
Opportunities of Operational Improvement
Ignorance is never bliss when it comes to supply chain. It will cost a business money. Rather than seeing transparency as a challenge, companies can leverage the opportunity to identify potential operational improvements. These improvements can result in cost savings, more time, efficient processes and better ways to allocate resources.
When business units are siloed — metaphorically and sometimes physically — this separation of data, insights and resources is doing more harm than good. Now with new technology being developed at a higher frequency, there are a number of cross-device cloud solutions to help companies manage data across business units, gaining insight that is actionable. For example, supply chain companies can better optimize logistics, distribution and production by using cloud-enabling data processing. The speed at which this type of technology is growing also shows no signs of slowing down. According to a Forbes report, the global Software-as-a-Service (SaaS) market is projected to grow from $49 billion in 2015 to $67 billion in 2018. Billions of dollars are being invested in this market, a clear indicator that companies not only need to take notice, but take action in adopting these tools.
Establish and Maintain Trust
Transparency, internal and external, is an essential part of establishing trust and reinforcing a positive reputation. Companies that lack a full understanding of their supply chains systems are finding themselves up against many risks and liabilities that could have been avoided. There are a number of organizations around the world that have the capability to expose a company's inefficient processes. Simply the rumblings of suspected irresponsible behavior have the power to hurt a business' name. When a company moves to the cloud, not only is this a strategic business decision that is environmentally friendly but it's also a step towards transparency. Cloud solution tools enable teams at a company-wide level to keep a closer eye on where business processes are succeeding and where red flags need to be raised. This fosters an environment of personal responsibility within company walls in order to build and reinforce a positive public image.
Working with the cloud enables a company to be more nimble, cost effective and time-efficient. By embracing these solutions, a company will reap rewards that can be accounted for numerically on a spreadsheet, but also felt by the public when it comes to a positive reputation. The on-demand access to resources and insight alone is a fundamental technology that any company today should take advantage of in order to stay innovative, competitive and transparent.
Matt Clark is COO at Corcentric.