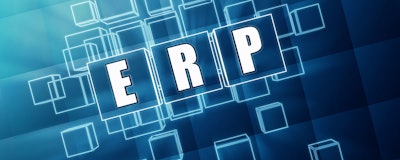 Two guys walk into a sales conference. They both meet with the same potential customer. One person has access to inventory, pricing and distribution within a few clicks on his phone. The other salesperson needs to get back to the office and make a few calls (one overseas) before he has the information needed to make a proposal.
Who is most likely to get the deal?
A disgruntled customer buys a computer online and calls customer service to ask where her order is after waiting three weeks for delivery. The customer service representative doesn't have access to inventory and distribution — and the customer's credit card history isn't visible, either. The frustrated customer has to make repeated phone calls to eventually find out she needs to cancel the order and start over if she wants to get her machine anytime soon.
Who just lost a customer?
These are business situations that happen every day. Manufacturing companies have their heads in the sand if they think they don't. Why? Because despite the industrial boom going on, many manufacturers still use legacy on-premise ERP systems from 20 years ago that simply don't have the means to handle today's customers' requirements or expectations.
Fortunately, traditional ERP system deployments have been steadily decreasing since 2013 for good reason. More and more manufacturing companies are recognizing the competitive advantages found by upgrading legacy ERP systems with new technologies that successfully merge back-office operations with front-end office applications to create more customer-centric operations.
Collaborative ERP
The Cloud ERP solutions available today are nothing like the legacy systems of yesterday. These intuitive Cloud ERP solutions are built for users across the organization and enable everyone in the company to be more informed, nimble and responsive. They also bring customers closer into the processes that directly affect them.
Surprising to anyone only familiar with legacy ERP systems, the ERP technologies of today are incredibly collaborative. By making ERP collaborative — both internally and externally — companies are able to break down information silos and create more efficient processes. Collaborative ERP seamlessly connects your front and back offices and gives companies the ability to leverage new business intelligence and artificial intelligence technologies across the organization. In addition, Collaborative ERP helps companies leverage social media and the digital preferences of their employees, partners, suppliers and customers, who bring their consumer and digital device habits to work. Having a 360 degree view of a business can make a company much more efficient and strategic about how they view and use data, which in turn accelerates change and fuels innovation.
Accelerating change and fueling innovation while embracing digital networks across an organization drives remarkable growth and a company's ability to compete aggressively. This is the ideal situation for any company, unless it's one of your competitors. And it very well could be.
Gaining the Edge
A recent Forrester survey showed that 65 percent of enterprises expect to be using SaaS in some ERP role before the end of 2015 — a massive increase of two thirds on what respondents were saying a year previously.
Manufacturing companies are moving in this direction for several specific reasons to edge out their competitors and acquire more customers, which are noted below:
Creativity
Whiteboarding sessions churn out new ideas and fuel new market strategies, but clunky on-premise ERP systems often bring brainstorm sessions to a screaming halt. Coming up with an idea is one thing, but making it work across a company with siloed and disconnected information systems that are stuck in cement is often a costly, time-consuming — and often impossible — project. Centralized agile and nimble Cloud ERP systems can integrate new processes and changes to software processes company-wide within days versus months.
Speed
How much time do employees spend tracking orders, invoices, POs, supplies, etc.? Accurate data points may not be available to show the percentage of time spent hunting these items down every day, but most people working in a manufacturing environment understand the colossal amount of time spent doing this every day. Imagine having a system where all of that information is a click away — and each department has access to it via laptop or phone? Cloud ERP systems are already doing this today, which is good news if it's on your business strategy horizon, not so great if it's your competitor.
Visibility
Daily reports for management often depend on information from other departments. Cloud ERP lets people have real time visibility into anything companies need to know immediately, such as how much product was shipped the day before, how many orders were taken that morning, or real-time numbers from the production floor. These are critical pieces of information that should be taken into account when the company is making any decision. But with legacy ERP systems, the data is often buried in archaic, hard-to-access software applications, giving management a sense of flying blind when making daily business decisions.
The benefits of upgrading dinosaur on-premise legacy ERP systems to Cloud ERP are compelling. But there is always a portion of the population that is risk averse and wants to keep things as is.
According to SME's Advanced Manufacturing Media, more than half of manufacturing leaders are planning to invest in advanced manufacturing technologies in the next two years. And of these companies surveyed, 65 percent reported that new technologies, such as advanced software, were giving them a competitive advantage.
The future is calling. The problem is, it's really already on your doorstep. Don't be one of those companies that was the last to give their salesforce cell phones. Cloud ERP gives employees and companies the speed and freedom to innovate on the fly, which is something that hasn't been an option until now.
Marie Jackson is Chief Marketing Officer at Kenandy.