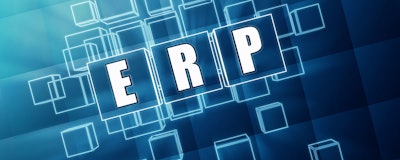 Manufacturers today have many options available to them for exciting, disruptive technologies that promise to revolutionize the industry and reinvent the value chain. It's easy to see how these high profile solutions can overshadow the significance of classic ERP deployments. Why would the C-suite opt to consider an ERP evaluation when the media is buzzing about technologies that were once the stuff of science fiction and imaginative dreams? Shouldn't leading edge manufacturers be focusing on the solutions that offer high-impact? The most razzle-dazzle?
Yes, manufacturers need high impact. No, it doesn't have to come from the latest "disruptive" application.
While the technologies that fall under the "disruptive" or "Industry 4.0" labels certainly offer important next generation capabilities, the foundational ERP solution shouldn't be overlooked for their instrumental role in enabling digital initiatives. Modern ERP solutions are critical to enterprise-wide growth, offering impact that is far above a silo approach or any project-based investments.
ERPs Still Rule
Despite all of the software innovation in the last 5-10 years, nothing has replaced the ERP solution as the most reliable tool for providing one consolidated view of the manufacturing operation, from the shop floor, to back office, to the top floor C-suites. ERP solutions have not only evolved to keep pace with the changing environment, in some cases they can provide the competitive advantage that manufacturers need to stand apart from the sea of start-ups, wanna-be players and also-ran contenders.
The ERP is the skeleton structure that makes the other advancements, like Internet of things (IoT) and Virtual Reality (VR) possible. And, like any solid foundation, it must be sturdy, but flexible. Without the right ERP solution, manufacturers will likely find their high-profile digital projects to be nothing more than random acts of data application — unconnected, lacking in deep analytics, tethered to the main database with one tenuous string. Lasting, meaningful impact will be hard to verify.
When is "Good Enough" No Longer Sufficient?
Tech-savvy manufacturers will acknowledge that an outdated ERP solution, heavily modified, patched, with disparate systems hobbled together, is quite likely to impede meaningful revitalization. It will be a substantial roadblock to the type of system-wide redefined IT strategy that many analysts are calling for in order for a manufacturer to keep up with the changing competitive landscape and high priority on customer centricity. Legacy ERP solutions more than five years old tend to have some common limitations:
Limited Visibility. The ability to access, share and consume data organization-wide without silos and gaps in communication is essential. In the past, ERP providers were concerned about keeping data within the organization, not in sharing. Today, visibility must extend beyond the four walls of the plant to the supply chain network, colleagues, co-manufacturers and partners.
Limited Storage. Legacy solutions deployed on premises seldom offer the storage capacity required for the vast amounts of sensor-generated data. IoT applications typically involve sensors embedded in products or equipment which capture and communicate a continuous flow of data about location and conditions. This requires the virtually unlimited storage capacity of the cloud.
Limited flexibility. Many legacy ERP solutions are heavily modified, creating a complex tangle of connections easily broken and hard to fix. In some cases, the ERP is so patched that the "Frankenstein effect" is truly frightening — especially when the one IT person who understood the chaos wants to retire. Manufacturing is changing at such an incredible speed that the manufacturer must be able to quickly upgrade and update to the newest functionality without the worry of breaking a modification.
Why the ERP is the Answer to Enterprise Modernization
Some manufacturers are trying to move to a digital framework one edge app at a time. This piecemeal approach had its place when early adopters were needing to prove concepts with pilot programs and test applications — which had little case history to use as guide points. We are past that stage. Digital concepts are proven and beyond requiring protected boundaries to limit risk.
Now, this baby step approach is slow and limiting, likely to produce results that neither impress customers, nor inspire the C-level to further invest in "projects" with limited scope and mediocre impact.
An enterprise-wide approach is a more appropriate way to address the entire customer journey, not just one touchpoint. Customers engage with manufacturers at multiple levels, at many different intersection points in the buying cycle, from early product inquiries to aftermarket service and repeat sales or upgrades. The customer expects a consistent experience throughout the process, not a highly attentive pre-purchase phases that suddenly drops off the moment the status switches from prospect to customer.
This is why digital concepts, when enacted correctly, tend to create a domino effect within the organization. Improvements in aligning to the needs of a prospect lead to the need for ongoing communication with customers on project status. This leads to the need for customer tools which enable visibility and communication. This leads to the need for shop floor sensors to report on production status. This leads to a never ending cycle. An enterprise-wide management system, the ERP, makes this full-circle approach possible.
Move Beyond Simply Improving Processes
Truly effective digitalization efforts go far above and beyond merely improving existing processes. The greatest potential from digital disruptive comes from strategies that re-envision revenue streams, enlist new business models, and provide new results-based offerings and data-based services to customers. Some examples include:
The HVAC companies providing conditioned air to commercial accounts, rather than air ductwork and air handlers.
Animal feed companies providing herd health rather than grain.
A consumer receiving a box packed with a recipe, fresh foods, and packaged goods needed to make one gourmet meal, rather than a weekly trip to the grocery store.
An IM&E manufacturer who provides hours of power, rather than a crane. These are the types of game-changing possibilities that align with evolving customer expectations and the new digital landscape.
In each of these examples, the focus is on the customer, the experience and the end result. This business model-to-execution approach requires a business management solution with the same kind of wide approach — the ERP. Nothing does the full gamut of planning and execution better. A manufacturer who has not performed an ERP review recently, should consider it a key part of the digital-adoption process. Make the ERP the foundation to the new digital focus.
Mark Humphlett is Senior Director of Industry and Solution Strategy at Infor.