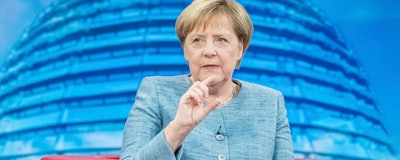 BERLIN (AP) — German Chancellor Angela Merkel is making clear that she opposes setting new, more ambitious European emissions reduction targets for 2030. She says the continent needs to concentrate on fulfilling the aims it has already set.
The European Union wants to achieve a 40 percent cut in greenhouse gas emissions from 1990 levels by 2030. Last week, EU climate chief Miguel Arias Canete told Germany's dpa news agency that he plans to propose increasing that to 45 percent.
Merkel told ARD television on Sunday that she is "not so happy at the moment about these new proposals because many member states already aren't fulfilling today what they promised."
She said: "I think we must first keep to the targets we set. I don't think that permanently setting new targets makes sense."