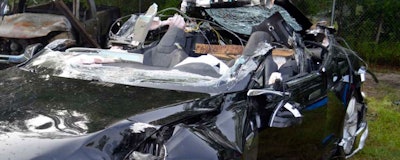 Federal transportation investigators found that the driver of a Tesla sedan was warned numerous times to keep his hands on the steering wheel prior to a fatal crash in Florida last year.

Joshua Brown, an Ohio tech entrepreneur, had deployed the semi-autonomous Autopilot system in his Model S when it collided with a tractor-trailer that turned in front of him.

Initial reports said that the cameras on the Tesla system did not pick out the trailer against the brightly lit sky.

The crash raised questions about the safety of Autopilot, but the electric vehicle maker maintained that it was working properly and warned that drivers should always keep their hands on the wheel even when the system is engaged. The National Highway Transportation Safety Administration previously found no defects in the system in the wake of the crash.

Documents released this week by the National Transportation Safety Board showed that Brown only had his hands on the wheel for 37 seconds of his ill-fated 25-minute journey in May 2016, Reuters reported.

The agency also said the car displayed a visual warning seven times and sounded a warning chime six times prior to the crash.

Brown never applied the brakes in the collision and had set the cruise control set at 74 miles per hour in a 65 mile-per-hour zone. The driver of the truck was charged for a traffic violation in the crash.

Tesla subsequently tweaked Autopilot to prevent its use unless the driver's hands are placed on the wheel.

An attorney for Brown's family told Reuters they continue to review the NTSB report but that it should put to rest rumors that he was watching a movie at the time of the crash. The family has not taken legal action against Tesla.