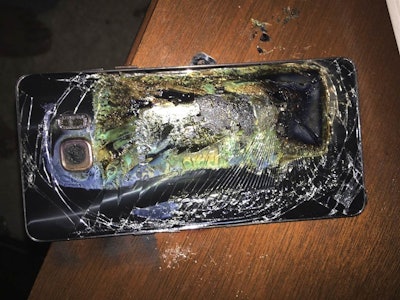 Lithium-ion batteries are built into everything from mobile and medical devices to e-bikes and electric vehicles because they deliver a rechargeable, energy-dense power source in a slim, lightweight form factor.
But manufacturers who design them into their products sometimes neglect to make contingency plans, overlooking the fact that lithium-ion batteries are classified as hazardous materials which pose potential safety risks. Despite headline-making recalls of lithium-ion powered products, many manufacturers are unsure of how to manage post-market mishaps. And manufacturers adopting more sustainable business practices may not be aware of the environmental implications of end-of-life battery disposal as well.
In the event of a recall, the logistical and regulatory challenges of collecting, transporting and disposing of lithium-ion batteries put companies in thorny compliance risk. Manufacturers need to prepare for a host of federal, state, and local requirements when dealing with a recalled product. They also need to plan for marshalling the massive personnel and logistical resources required for handling a nationwide recall of potentially dangerous products.
First among them is transportation. The U.S. Department of Transportation (DOT) regulates products containing lithium-ion batteries, as well as replacement batteries shipped separately. That is because lithium-ion batteries contain volatile and flammable chemical compounds that are pressurized inside battery cells to facilitate movement of the ions. When a battery is charged and recharged, it generates a lot of heat inside this precarious chemical environment.
Consequently, DOT rules prohibit air transportation of recalled lithium-ion devices because of the potential fire hazard. Manufacturers must develop a strategy for engaging a major ground shipping carrier like UPS, FedEx or DHL to leverage its nationwide trucking resources for potentially hundreds of thousands — and some cases, millions — of product pickups and deliveries. Often retail stores can serve as consolidation points for the pickup of devices, such as when consumers bring recalled consumer electronics to their local big box retailers. Other times arrangements may have to be made directly with consumers.
Perhaps even more challenging for manufacturers is packaging required to ship their recalled product. As a hazardous material, manufacturers need to carefully follow the stringent packaging construction, marking and labeling requirements from the DOT for lithium-ion battery devices. Off the shelf cardboard boxes will not suffice; the devices must be shipped in specially manufactured multi-box sets designed with fire-proof linings, strong outer packaging and a safety vent or other system to prevent violent rupture during normal transport. And those are just the rules for properly manufactured batteries. Those that are damaged or defective are typically subject to additional requirements.
This complexity often extends beyond just one kind of box. Manufacturers sometimes need to produce several types of kits to handle returns of both single and multiple units. The DOT has approved several special permits that specify how the batteries can be consolidated and shipped compliantly, even if the products have already suffered damage. The DOT was so concerned about the packaging and transport of these kinds of devices that it issued a safety alert in December 2015 stating that violation of these rules could result in civil or criminal penalties.
The DOT also specifies precise labeling and handling requirements designed for dangerous products. Even going so far as to specify the type of shipping tape used and its precise position and alignment across the surface of the package. It may seem like a trivial detail, but when you have thousands of assembled boxes rejected because the tape is just a quarter-inch out of spec, it turns into an expensive mistake.
Manufacturers also have to plan carefully for post-recall destruction. The Environmental Protection Agency (EPA) and individual states have rules for recycling and disposing of recalled batteries, and these rules are constantly changing. Companies trying to keep up sometimes find themselves complying with a regulation that was in effect last year but has recently changed.
Lastly, manufacturers need to plan for quickly deploying potentially hundreds of people with specialized training to handle the call centers, data management, regulatory compliance, communications, warehousing, shipping and handling, destruction and other complicated logistics required in a nationwide recall. In other words, you need to have a comprehensive recall plan in place if you're manufacturing products with lithium-ion batteries. Without planning, a recall can have devastating consequences on a company's reputation, market share and bottom line. But with the proper planning and systems in place, a recall event can be effectively managed to mitigate financial and legal risk, increase customer loyalty and prevent irreparable brand damage.
While some manufacturers have tried to handle large scale recalls completely in-house with varying degrees of success, a wiser plan may be to partner with a trusted recall specialist who knows how to navigate the complex recall landscape. Partnering, rather than DIY recall planning, allows manufacturers to focus on running and growing their business with the knowledge that recall experts are compliantly and efficiently managing even the most complicated of events.
Michael Good is VP of Commercial & Client Services at Stericycle ExpertSOLUTIONS.