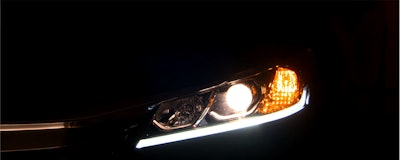 Just one of 31 midsize cars tested by the Insurance Institute for Highway Safety were equipped with headlights rated as "good" by the auto safety group.

The IIHS' first-ever rankings of headlights bestowed that distinction on the Toyota Prius v, while 11 more models were classified as "acceptable."

Nine of the cars saw their best-available headlights achieve only a "marginal" rating and 10 models were deemed "poor." Luxury vehicles accounted for many of the models in the latter two classifications.

"If you're having trouble seeing behind the wheel at night, it could very well be your headlights and not your eyes that are to blame," IIHS chief research officer David Zuby said in a statement.

The group evaluated headlights on a nighttime test track at its Virginia Vehicle Research Center. A device measured the light from both low beams — which were weighted more heavily — and high beams as the vehicle was driven on five different approaches, as well as the glare from low beams for oncoming traffic.

The rating was determined by comparing the measurements to a hypothetical ideal headlight system. IIHS officials said that the results simply rewarded systems that produce ample illumination without excessive glare.

The group said that government standards for headlights are based on laboratory tests and allow for huge variations in the amount of illumination in on-road driving.

Analysts also said that improvements in headlights could save lives since half of traffic deaths occur in the dark or in dawn or dusk conditions. They pointed to new technologies such as high-intensity discharge or LED lamps and headlights that adjust to steering through curves.

In total, the group evaluated 82 headlight options across the 31 vehicle models. The Prius v only earned a "good" rating when equipped with LED lights and high-beam assist.

"The Prius v's LED low beams should give a driver traveling straight at 70 mph enough time to identify an obstacle on the right side of the road, where the light is best, and brake to a stop," said IIHS engineer Matthew Brumbelow. "In contrast, someone with the halogen lights would need to drive 20 mph slower in order to avoid a crash."