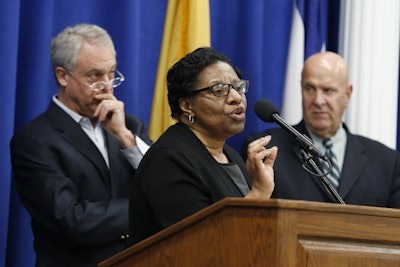 TRENTON, N.J. (AP) — All schools in New Jersey would have to immediately test drinking water for lead contamination under a bill state lawmakers proposed on Monday, weeks after elevated lead levels in Newark schools prompted officials to shut off sinks and drinking fountains.
They outlined a measure that would provide more than $20 million for both testing and water filters. Once New Jersey understands the scope of the problem, the lawmakers said they would address the larger and far more expensive challenge of helping schools to replace old pipes and fixtures that often cause of contamination.
The bill was introduced after testing showed in elevated lead levels in half the school buildings in Newark, the state's largest district.
"We were quite surprised that we didn't have a regulation for water testing in the state," Steve Sweeney, president of the state's Democrat-controlled Senate, said at a news conference.
"We're not a third-world country," he added. "This is the United States of America. And New Jersey is one of the healthiest and wealthiest states in the country. We need to do what we need to do now."
The proposal underscores the growing focus on lead poisoning in statehouses across the country and in the nation's capital. Just a decade ago, few schools tested for lead — and few states required them to, according to a report from the Government Accountability Office.
But more lawmakers are considering new mandates in the wake of the water crisis in Flint, Michigan.
Last year, a bill in California would've required the state's health department to test drinking water in all schools. An analysis of the bill noted that it would drive up "major" costs for the state. It was vetoed by the governor.
Last week, Pennsylvania lawmakers also introduced a bill that would require drinking water in all schools to be tested for lead. And on the federal level, Democratic U.S. Sen. Chuck Schumer of New York and Democratic Congressman Bill Pascrell of New Jersey introduced bills that would help pay for lead testing in schools.