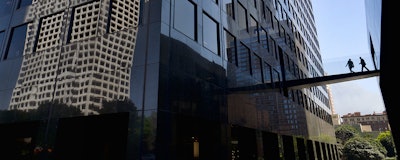 NEW YORK (AP) — A company doesn't need to be as big as Amazon to get a good deal on real estate.
Whether a small business wants to buy or rent, it may have leverage with landlords or local governments to get breaks on rent or taxes. It's especially doable if a company can be a drawing card that helps boost local commerce or has significant job creation plans. The key is often to look for real estate in an area that needs an economic boost.
Even the smallest and newest businesses may be able to negotiate, says Seth Kaplowitz, who teaches real estate courses at San Diego State University. For example, a young doctor or dentist willing to start a practice in an area that needs more medical or dental services may be able to get financial help in buying and/or setting up an office.
Small businesses can also band together and negotiate as a bloc, Kaplowitz says.
"They can say, 'this is what we're bringing to the downtown. What can you do to help us?'" he says.
Amazon, which plans headquarters in New York's Long Island City section and Arlington, Virginia, each employing 25,000 people, won a promise from New York officials for at least $2.8 billion in tax credits and grants and expects $573 million in breaks from Virginia. Amazon, which is moving into a formerly industrial boat basin in New York, pledged money to fund job training programs for public housing residents, provide space for a new school and pay into a city fund that will be used for projects that benefit the community, Mayor Bill de Blasio says.
When businesses that cater to consumers are looking to rent, they can get favorable leasing terms and help with renovations and repairs if they have an attractive or unique brand that's likely to draw shoppers or other businesses to a neighborhood or small shopping center. A retailer or service provider who offers "something nobody else has in the neighborhood" will appeal to a landlord, Kaplowitz says.
Owners are also likely to get a better deal in a neighborhood that's been depressed but is showing signs of turning around.
But even companies that cater to other businesses can get a deal. If they are willing to rent in a building that's sat empty for some time, landlords are likely to make more concessions.
Owners need to first figure out if they want to buy or rent. If they're interested in buying, they should consider if the business is likely to outgrow a property within a few years? And if it does, is it feasible to add on to the space?
Owning a building means being responsible for its upkeep. Does the owner have the time or available staffers to deal with maintenance and emergencies? And financial resources for unexpected expenses like damage from severe weather?
Does the business have predictable or stable cash flow? If it does, buying may be best, Kaplowitz says.
"If you're going to be around for a while, you want to own," he says. "If you're willing to wait out the up and down cycles, ownership is the way to travel."