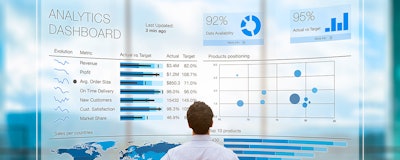 Lean manufacturing is a well-known and widely implemented production process that is all about minimizing waste without sacrificing productivity. When the concept was first introduced in the 1990 book, "The Machine that Changed the World," authors Womack and Jones presented the five principles to increase efficiency and productivity:
Define value
Map out the value stream
Create flow
Establish pull
Pursue perfection
While these principles provide a framework, manufacturing managers need to outline key performance indicators (KPIs) to apply this knowledge and measure their progress towards improving their processes. Most KPIs will be unique, as each organization has their own inefficiencies, but there are some key metrics that all manufacturing companies should be monitoring to ensure that production processes are lean.
Top 5 KPIs for Lean Manufacturing
1. Overall Equipment Effectiveness (OEE)
What is it? – OEE assesses total production availability, performance, and quality to indicate the overall effectiveness of a piece of equipment or production line.
Why is it important? – In order for a production floor to reach maximum efficiency, every machine needs to be working smoothly. Tracking OEE helps to improve productivity by identifying causes of loss production.
2. Manufacturing Cycle Time
What is it? – Manufacturing cycle time is the total time from the beginning to the end of a production process. This is the time taken for inputs to pass through all machines processes and cycles and become a finished product.
Why is it important? – Cycle time monitors how well an organization is meeting customer demand and predicts how long it will take to complete production activities in the future.
3. First Pass Yield
What is it? – First pass yield is the number of units coming out of a process divided by the number of units going into that process over a specified period of time. Only good units with no rework or scrap are counted.
Why is it important? – It helps to measure quality and production performance, which is key to eliminating waste. Manufacturers also need to prioritize preventing reworks, as they can be a big time and money burden.
4. Total Downtime
What is it? – Total downtime is the number of unplanned stops that are long enough to assign a reason for each occurrence. These stops can be result of equipment breakdowns, shortage of operators, or unscheduled maintenance.
Why is it important? – Each disruption or delay in the production process is an interruption to the flow. Monitoring downtime allows the floor manager to optimize processes for better production time in the future.
5. Surplus Inventory
What is it? – Surplus inventory measures the monetary value of the purchased items that were never used in production.
Why is it important? – To establish pull, you need to limit inventory items while ensuring that there are enough resources for a smooth flow of work. Monitoring surplus inventory and other inventory-related KPIs can get you on the right track towards inventory optimization, therefore reducing waste and unnecessary expenses.
Note: The definitions for these KPIs came from The KPI Institute
Samantha Marsh, Marketing Content Coordinator for iDashboards.