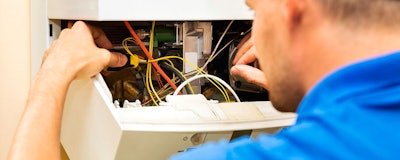 Globalization has transformed the way we buy and sell products. For industrial organizations, product sales are no longer the primary source of profit, which means product-oriented organizations are faced with more pressure than ever before to adapt their business structure to outcome-based models and accommodate more aftermarket services.
Servitization Gains Momentum
The shift to services did not happen overnight. An IDC survey from 2013 already indicated that capital equipment manufacturers were getting ready to move their profit centers away from the initial sale process—as little more than 10% of respondents expected a major increase in equipment sales revenue over the next three years. Soon enough, new product sales have started to involve service contracts, and by now, the aftermarket service space is key area for companies wanting to identify new avenues for growth.
Today, aftermarket services can cover various business operations from warranty management, contract management and field service and subcontractor functionality to streamline bid letting, bid acceptance and work order management for third parties—and of course reverse logistics.
The Reverse Logistics Puzzle
When industrial organizations step on the path to servitization, they often find that reverse logistics poses a larger challenge than originally anticipated. This complexity stems from the wide array of servicing demands associated with treating a vast number of individual parts.
These challenges require software to be able to organize everything from refurbished inventory cores to returned parts—that are either defective or need break-fix repair. Even parts returned for disposal might be traced due to regulations on the end-of-life treatment of electronics.
To further complicate matters, customer-specific product needs can significantly affect the fate of a part in the reverse logistics supply chain. This means software must enable a service organization to track and manage the extent to which repair work on the part may be billable or included in an existing contract. Tracking returning items handled by subcontractors must fall under the same level of scrutiny.
Reverse Logistics Trends Across Asset-Intensive Industries
Recent research by IFS into reverse logistics software deployments by industry has found that adoption was highest among medical device and aviation/aerospace manufacturers. This is hardly surprising, as for these organizations, inventory traceability is not simply a question of operational efficiency, but also of safety and regulatory compliance.
Companies providing aftermarket services for aviation and aerospace assets will need to comply with various regulations, based on whether they are working on commercial or military aircraft. If they are removing life-limited parts from the aircraft, they must document the current life status of the part. They also must maintain records of any repairs—including those performed in a depot environment—for a year in the case of basic repairs and for the life of the aircraft in the case of major alterations.
In the food and beverage industry, adoption rate is lower, at thirty percent. Here, reverse logistics software must be able to fulfil mission critical tasks—from applying credit to customer accounts to updating the product disposition. When products enter the reverse logistics supply chain, they are often removed from distribution because they are expired, damaged, discontinued or recalled. In some cases, recording the cause of returns might be useful for collecting actionable feedback.
Alongside a returns process, discrete manufacturing disciplines usually also operate a depot repair facility. Products that re-enter the supply chain from repair may be returned to the customer, reintroduced to inventory, sold as reconditioned or be repurposed in other ways.

Actioning the Reverse Logistics Dilemma for Contractors
It's not just manufacturers pursuing aftermarket services—contactors, too often have warranty and service activities, which make the reverse logistics supply chain an area of interest for them. In a recent IFS study involving HVAC, mechanical, plumbing and other trade contractors, around 80 percent of businesses identified reverse logistics as a business concern.
Despite this, more than a third of respondents admitted their enterprise software was hindering reverse logistics supply chain efficiency, with only 10 percent saying their software dealt with reverse logistics "very well". In the HVAV sphere, less than one in six organizations reported having such system in place at all. This is surprising, given the wide-spread understanding of reverse logistics software as a vital business requirement.
The IFS trade contractor study also revealed that larger contractors, those with revenue of over $50 million, were the most likely to report involvement in the reverse logistics discipline. But organizations did not have to be very large before reverse logistics became important to them. Seventy-three percent of contractors between $5 million and $10 million reported involvement in reverse logistics—in the next category up, companies between $10 million and $20 million, the same figure was 88 percent, closely followed by companies between $20 million and $50 million at 89 percent.
Reverse Logistics Disparities in Field Service
Field service battles with functional gaps when it comes to reverse logistics. In an study conducted for IFS by WBR Research on servitization trends in 2018 and beyond, 45 percent of field service firms reported challenges with serial traceability and tracking of the location and status of parts during the reverse logistics process. Forty-two percent reported issues during the return materials authorization (RMA) process and a quarter of respondents identified the component repair and overhaul process as a problem area.
Other challenges cited by field service organizations included the training and education of bench and repair technicians, managing third party contractors involved in the service process, tracking the origin of a specific piece of equipment and determining who owns a part once it is removed from a customer's equipment.
A Strategic Step Towards Outcome-Based Models
Recent research highlights the importance of reverse logistics for product- and asset-centric organizations of all sizes. As pressure amounts on organizations to diversify their portfolio and augment their offering with aftermarket activities, developing an efficient management system for the reverse logistics supply chain will be crucial. Only by assigning reverse logistics mission-critical importance will organizations be able to capitalize on aftermarket services, keep to regulatory constraints and meet evolving customer expectations.
Charles Rathmann is Senior Marketing Communications Analyst, North America at IFS.